After five years of having sub-par Valentine's Days due to work, school, and non-fun travels, we finally decided to do something memorable this year. We flew to Albuquerque, New Mexico and spent the weekend traveling around in Santa Fe. Here are the pictures.
A little over three years ago I went to Santa Fe with my buddies and fell in love with the air, landscape, and relaxed life. So it was a pleasure to visit the town again, this time with Juliet. In addition to window-shopping around Santa Fe's famous Plaza, we climbed up 120 feet into the thousand year old cliff dwellings in the nearby Bandelier National Monument.
The last thing we did before we returned home, was a limo tour of the shooting locations of the TV show Breaking Bad in Albuquerque. We're both fans of the show and waited for every episode with bated breath. If you ever find yourself in Albuquerque and love Breaking Bad, I highly recommend taking the Breaking Bad Experience Tour.
I am taking a break from coding (because one of my meds is giving me very painful migraines) and instead of watching a funny movie or exciting TV show, I found myself transfixed on month-old recorded videos of the local "Code Enforcement Board" proceedings on St. Pete TV.
The mission of the Codes Compliance Assistance Department of St. Petersburg is to maintain the quality and extend the life of existing housing, to stabilize neighborhoods and to protect the public. As I understand, the Code Enforcement Board rules on violations of building codes and gives fines when the violations are not rectified in the allotted time.
Word for word, the above paragraph qualifies as the top candidate for the most boring thing I have ever written on my 'blog and I've written some seriously bland material on the housing-bubble and financial crisis. Yet here I sit, completely captivated by video of a board room with seven administrators, hearing one case of violation after another. For each case, a code enforcement officer takes the stand under oath and reads out a case number, name of the accused, and the violations. The violations are everything from shattered windows and broken fences to operating unlicensed restaurants in residential zones.
What impressed me was that everyone from the enforcement officers and board members right down to the accused homeowners were so rational, logical, and frank. Unlike the fake TV judges with over the top stories about domestic skirmishes, this is real life and even though no major crimes are committed, there is so much at stake for the homeowners and community. And unlike courtroom cases where there is a lot of he-said-she-said interpersonal conflict and drama, homeowners end up facing the Code Enforcement Board when for some reason or other, they fail to take care of property, paperwork, and procedures. In simpler terms, instead of resolving playground fights, this is the grownup version of why Johnny didn't do his homework.
In one instance, a homeowner did not take care of a fallen tree that was partially blocking the road. One of the neighbors filed a complaint with the city, and rightly so. The city did an investigation and sent a notice to the homeowner, giving him a month to fix it - a pretty fair action. The homeowner ends up in the board room because he did not take care of the tree after a month. Now we hear his side of the story. He said a large section of the tree was touching live electric cables. The electric company was scheduled to take care of that but they haven't. The board then unanimously gave him another 60 days to take care of the tree, more than enough time to resolve the issue with the electric company. While this sounds fairly routine, the homeowner sounded pretty frustrated because all of this was beyond his control. He didn't cause the tree to fall, he cannot clear it because it is touching electric cables, he had a hard time getting in touch with the electric company, and here he was, being dragged into board room on a regular work day.
Unlike the hundred "This can happen to you!!!" stories we hear about in the media, this is the one that can most likely happen to me. And it is hard to find someone to blame in this. The electric company probably has thousands of such cases to deal with after every thunderstorm, the neighbors don't want to hit the tree while driving, the homeowner isn't going to risk getting electrocuted cutting the tree himself. The city officers did the right thing in investigating it and the board did the right thing in extending the period. While I have no background information on the board members, each of them who asked a question or made a statement, did it politely, clearly, and without any prejudice. This is not some all-powerful "board" who's judging the poor citizenry. This is just regular people making rational decisions and hard choices for the good of the community.
However, sometimes you do feel bad for the accused. This guy (actual screenshot below) was being charged with operating an unlicensed barbeque grill in a commercial zone. Come on guys! Let the man cook in peace!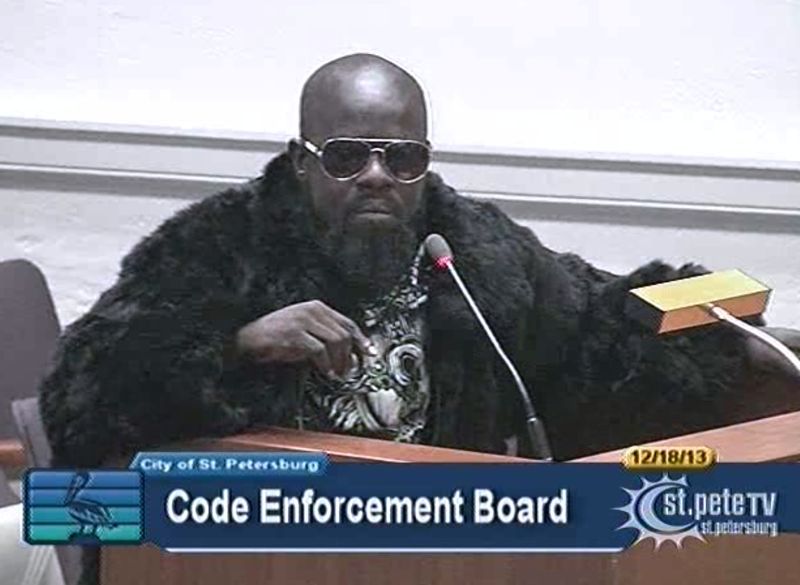 I am currently running an unintentional experiment with my sleep cycle that very few grownups with responsibilities have the luxury of attempting. Since I've had a bad cough for more than a few weeks now, I've stopped worrying about anything except getting better. As a result, I stopped trying to go to bed at a set time or waking up with an alarm. I stay up as long as I want, I sleep as much as I want, I take as many naps as I need, and I code whenever I feel like.
Yesterday I woke up at noon, ate my first and only meal at 6pm, fell asleep at 7.30pm, woke up at 1.30am, and coded until 7am. I am a bit sleepy now and will fall asleep soon but I am in no hurry to do any work, chores, or sleep. Since physical exertion makes me cough, I've been pretty lethargic. Here's some interesting things I realized:
1) Freedom from guilt is refreshing! Not feeling guilty for sleeping in until 2pm or watching cartoons from 3pm until 1am is elating. Far too often we live our lives in a certain way because that's how we are supposed to. As long as I am not dropping the ball on my responsibilities (bills, social commitments, work projects etc.), there is no reason for me to feel guilty.
2) 24-hour cycle is definitely not for me. In fact, my sleep cycle isn't even periodic. It's very random. Some days I've stayed up 20 hours without feeling tired and some days I've slept 16 hours. My only concern has been feeling good. Obviously being sick and taking cough medicine skews how I feel and how often I want to sleep/stay-up but even on the days I barely took medications, I would fall asleep at 4pm only to wake up at 9pm for absolutely no reason.
3) I am procrastinating less! Technically, I am not procrastinating at all since I have no schedule so whenever I do anything, it is done on time. I do have some self-imposed deadlines but they are not stringent. Being able to meet them while still living on a completely carefree schedule feels wonderful.
4) I am listening to my body - more so than ever. I am not fighting my urge to sleep or eat or stretch. While this means I don't have to eat my meals at a set time, it also means not ignoring that I am hungry at 4am. Instead of forcing myself to do things because it's time, I'm waiting to feel hungry or thirsty before I eat or drink. The revelation to me is that this hunger feels very different from the "it's 12pm so it's lunch time" hunger. This is definitely a sample size of one issue but I feel like I am eating the proper amount I need instead of over- or under-eating like I generally end up doing when I wait too long to eat or have to eat much sooner than I want to.
I'm not trying to hack my body into doing anything fancy. I just want to stop being miserable and my condition has improved considerably over the last week. I don't plan on living like this forever though I have to admit, the psychological benefit of this carefree-ness during a typical grouchy period of sickness has kept my spirits high throughout. Next time I'm sick, I'm going to do this for sure.
My Christmas gift to Juliet this year was a real-life encounter with a Capuchin monkey at our house! Enjoy the photos.
As of today, I am a naturalized citizen of the United States of America. I had my oath ceremony today in Tampa and was joined by my wife Juliet, her mother, and our close friend Carlos. Due to delays in mail delivery, we found out just two days ago that my oath ceremony was to be held today. I was looking forward to inviting more people to attend but the short notice put a kibosh on that idea. After the oath ceremony, we went to the Cheesecake Factory to celebrate. Then we came home, I took a four hour nap, ate some more cheesecake and Mac & Cheese, and watched The Simpsons for three hours straight. All in all, a pretty standard American day.
On a more serious note, I am looking forward to getting my first jury summons. While a vast number of people hate being summoned for jury duty, I love the idea that the common man still gets to play a role in the judicial system. I also registered to vote today, so now I'm responsible for 0.0000000000285714% of everything the US government does.
On an even more serious note, this was a day of mixed emotions for me. As jubilant and proud as I was to become an American today, I was also humbled by the thought that I will now have to surrender my Indian passport and renounce my Indian citizenship since the Indian Constitution does not recognize dual citizenship. My Indian passport has been one of my most prized possessions, literally a proof of my identity. I've used it to prove who I am at every US Visa and immigration interview, every driver's license renewal, every mortgage signing, and even when we applied for a marriage license. While I haven't traveled much internationally to miss the various visa stamps, I will miss the "Home" address of Calcutta (now called Kolkata) on the second page of my passport, where my parents still live. Even though I've been a Permanent Resident (greencard holder) in the US for many years now, my passport still said my "home" was in India.
The flip-side of this is that I will soon get a shiny new US passport, enabling us to travel to many more countries around the world with minimal restrictions. The only countries I have been to is India, Nepal, United States, Canada, and Mexico. Now Juliet will finally get a chance to feed more interesting animals around the world!
I've spent almost the entire year planning, designing, and repeatedly modifying the duck and tortoise area you see in the photo below. I worked with my wonderful neighbor Bevv (who did the initial design), my handyman Dan and my lawn expert Chris to build it all.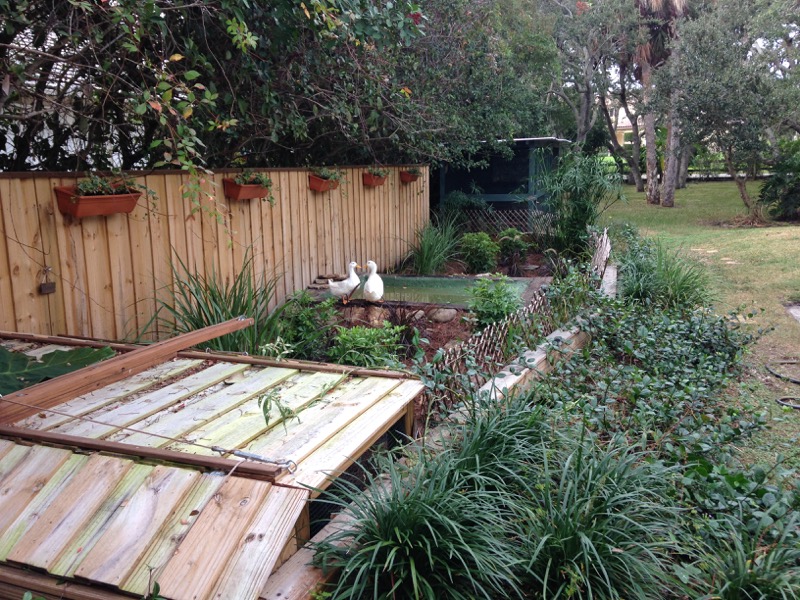 We have a large Sulcata tortoise (Lola) who lives with the two ducks (Peek & Poke). Here are the major structures:
Fence: The back portion is just a typical fence with a stained wooden 1" trim on the top, everything held up straight by 8ft 4x4s. The side and front edges are 4x4s piled on top of each other, with 6ft iron rods drilled straight down through them with concrete at the base. Then we piled up dirt on the outside and planted a variety of greens. Since the ducks kept jumping out and chased our small Chihuahuas around the whole yard, I added the wooden criss-crossed trellis around the front. A primary reason for making the fence solid is that it prevents the tortoise from trying to scale it.
Enclosure: They all sleep in together in the wood enclosure built by Dan (towards the bottom left of the picture). The enclosure is heated by infrared bulbs on thermostat set to turn on at 70F. The enclosure has a front-flap that can be raised up with a simple pulley and hooked on the side to keep it open during the day. At night I just lower it. There is also a back flap that you can open up like the trunk of a typical sedan and we use that to fill up water/food. Also very useful when I want to hose out everything. There is a small mesh on one side of the enclosure to make sure it doesn't get too hot in the summer. If it gets too cold, I can put a small blanket on it to keep the warmth in.
Pond: This was the most difficult thing to get right and I spent more time, money, and effort on it than anything else. Initially we had one of those pretty koi-style ponds with a big pump and filter as you can . I was prepared to deal with duck poop but I had no idea what the tortoise had in store for me. The tortoise ate grass all day and clogged the pump, filter, and pipes so bad we had to scrape the entire pond and rebuild. The pond you see now has a simple gravity drain. It is a large stagnant pond which gently slopes to the back. There is a 4" PVC pipe that drains everything out towards the back of the yard. There is a single heavy-duty valve that I can access without getting into the duck area which empties the pond within 30 seconds. I hose off any messes on the pond, close the valve, and refill. Takes about 10 minutes. The ducks and tortoises get fresh water and I barely have to do any work to keep it clean. I'm pretty sure I can use the drained material as fertilizer around the yard.
Plants/ground-cover: These I left up to Chris. We tried typical sod in the middle but the tortoise kept eating that instead of her food. Also the ducks made a mess everywhere. So we opted for pine-straws and lots of small shrubs. We planted Jasmine on the outside of the front fence and bunch of other flowering plants like Lily of the Nile. The planters will hopefully grow long enough to cover the back fence soon.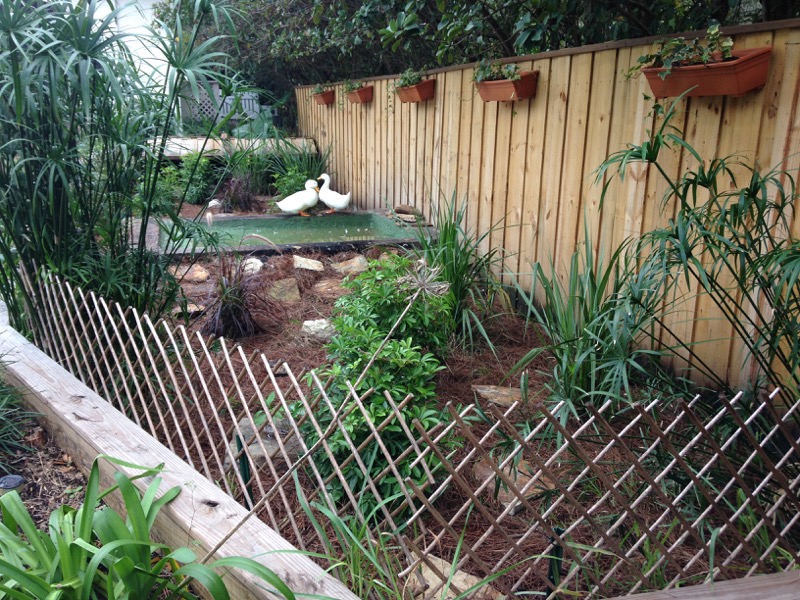 We got the ducks last Christmas and I have spent the entire year getting this area setup just right. The ducks are SO happy and the tortoise is very active too. While I may not have done much work with my own hands, I came up with all the little solutions for each tiny problem and trust me there were many. We wanted our critters to live as close to their natural habitats as possible and I think we got it pretty close.
Life's been pretty busy and eventful lately. I passed the United States citizenship interview last week and will soon be able to vote in elections (though not run for the President of United States position). I rented a tuxedo for the first time in my life yesterday and will be wearing it for our friends Billy & Lisa's wedding tomorrow. I went to his bachelor party this weekend in St. Augustine and had a great time. We're hosting our first Thanksgiving dinner next week with friends and family. We've spent the past two years fixing up our house and finally after a new air conditioner and pool pump/motor, I feel we're about done. We even bought a long carpet for our hallway and a replacement oven for our kitchen last week. I think it's about time we had a big house party!
It's finally getting cold here in Florida. Past few winters, I spent a lot of time bringing the tortoises and other critters indoors during cold nights and taking them out on sunny days. Each time I brought them in, I spent a lot of time cleaning their indoor enclosures daily. After getting tired of that earlier this year, I decided to modernize my zoo and bought four infrared heat lamps with reflectors and two thermostats. Though it was hooked up months ago, today is the first time I turned the system on and I'm ecstatic to say it's working perfectly!
The tortoises and ducks are being kept warm at 70F-80F (20-25C) in their outdoor enclosures and I don't have to wake up at odd hours in the night and early morning to check up on them. I made sure that the lamps were installed at a safe height and the circuitry was completely sheltered from rain. Additionally, since these are infrared lamps, they don't shine bright or interfere with the animals' sleeping cycles.
In the large scale of things, putting a couple of lamps is not a big deal but the relief I get from not having to worry about the temperature each night is worth it. Of course, tonight I've been behaving like a kid and keep checking the heat lamps every few hours just so I can feel giddy whenever I sense the warmth on my hands.
If you have been confused about the US Government Shutdown, here's an overly simplified fast-food analogy of the situation courtesy of reddit:
"Alright so to confirm, we'll be getting one party size pepperoni and mushroom pizza with olives, right?"
"WAIT NO! I DON'T WANT OLIVES!"
"But we all agreed that we wanted olives."
"WELL NOT US!"
And so the U.S. shut down every Pizza Hut until an agreement could be made. Those who shutdown the Pizza Huts still get pizza. Note that olives were voted on as something that should go on the pizza three years ago, but then some new guys showed up to the party and decided to be stubborn about the olives and refused to accept the olives unless you took the cheese, sauce and bread off the pizza.
While making plans for Thanksgiving, I just realized this year it falls on November 28th. As Thanksgiving is celebrated on fourth Thursday of November in the US, the latest it can occur is indeed November 28th (1st November being a Friday). Since 1990 this is only the fourth Thanksgiving to fall on November 28th. The next one will be in 2019.
People usually start shopping for Christmas gifts after Thanksgiving. The later Thanksgiving falls, the less time there is for shopping. The earliest Thanksgiving can occur is on November 22nd, almost a week earlier. Number of potential shopping days range from 26 (November 28th) to 32 (November 22nd). Since the period between Thanksgiving and Christmas is the busiest shopping period for almost all retailers and e-commerce companies, reducing the duration by 20% can have one of two effects: (1) average sales/day go up because people still need to buy all the gifts or (2) average sales/day remain stagnant because people don't have enough time/money to buy all the gifts, reducing sales. Adjusting for typical business cycles, it would be interesting to see whether (1) or (2) happens.