Tonight is a big night - it's the first time our son Naveen is sleeping in his crib in the nursery. He's already rolling and sitting up on his own and I'm fairly certain he will start crawling in a matter of weeks. My parents have continued to be amazing and we will all (including Naveen) miss them a lot when they go back to India later this month.
Once they leave, life changes for me. Instead of hiring a nanny or sending him to daycare immediately, I am going to be taking care of him during the day when Juliet is at work. I already do most of my work later in the evening when fewer users are online so I don't think my work schedule will be impacted much. But waking up early in the mornings when Juliet leaves for work is going to be hard. I am planning on having a good, fun routine for us and will hopefully stick to it until he's ready for daycare. As worried as I am about handling the new responsibility, I am tremendously excited about doing new activities with him every day. We have yet to go on the Pinellas Trail! Or the beach!
I don't plan on making this a daddy-blog - it's just a blog about my life and right now the focus is the baby. And I gotta admit, having a baby has changed me in ways I could not have imagined. Things that used to bother me to no end, are slowly becoming non-issues and sometimes even pleasant - like interruptions during programming. I used to hate it when someone interrupted me in the middle of work or activity. But if I hear the baby cry, I pay attention immediately - whether I just sat down to work or almost finished. Most of the time it only takes a few minutes to feed/change him so it is often a welcome break from hours of non-stop coding.
Another drastic change I've noticed is that I have nearly stopped procrastinating. All my life I've done things at the last moment and never expected to change because that's just who I was. But now? I jump on to every chore at the first chance I get - be it changing my life insurance policy or emptying the trash. I've been wondering why I suddenly feel obligated to do my chores without delay and I can't come up with a rational reason. It's just something that happened over the last few months without me realizing. And it feels wonderful :)
Today was the first time my son picked up a toy on his own and played with it for a while. He also attended his first party - Rebecca's Graduation from Nursing School! Congrats Becca! My parents have now been here for a little over a month and neither Juliet nor I can imagine a life for Naveen without them being present everyday. We're so happy that they extended their stay and will be with us for two more months. Here's Naveen holding his first toy ever: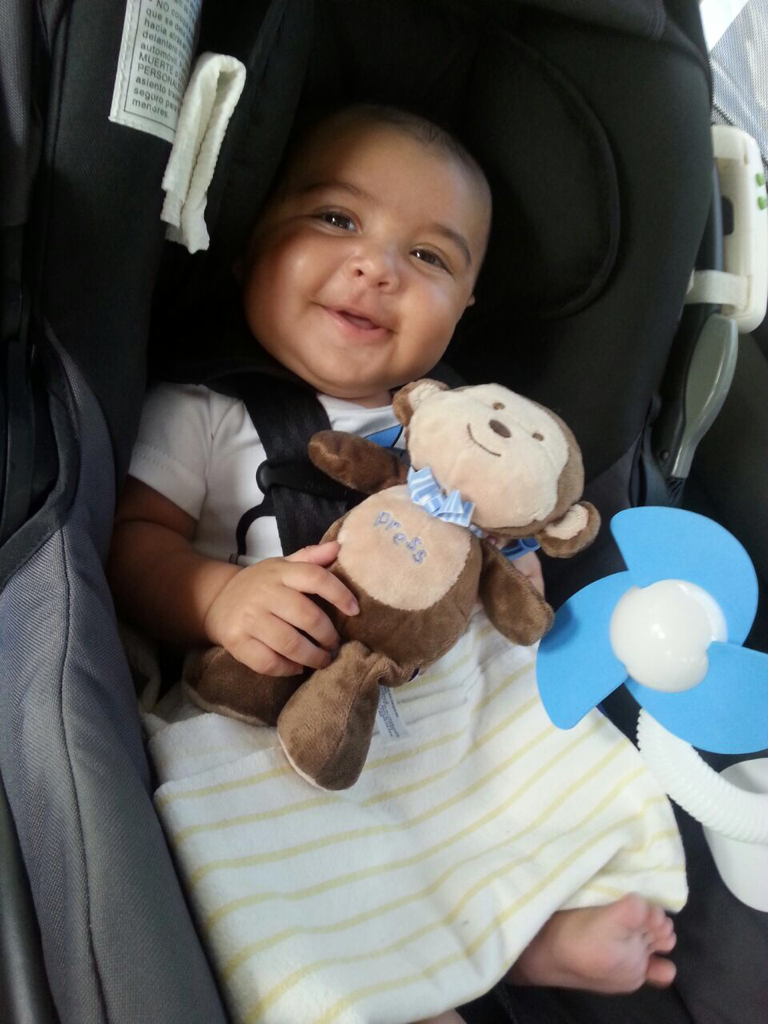 I still can't believe I'm a dad now. It's been over six weeks and both Juliet and I are getting back into the routine of normal life but every few hours we take a step back and go "Wow! We have a child now." My parents had me at a much younger age so it is a bit different to compare our becoming-a-parent experiences. When I was born, there was no robotic space-ship swing or constant health monitoring.
Throughout the pregnancy, delivery, and now Naveen's infancy, I haven't made any specific plans or goals about anything. Juliet's been taking charge of planning everything from his crib setup to feeding schedule. All I have done is made myself available to her and the baby 24/7, doing anything they need. While that sounds easy on the surface, it is anything but, especially because I've always been the take-charge kind of person myself. I have my own ideas and opinions on almost everything but from the moment we found out that Juliet was pregnant, I suddenly felt like my goal was to support and provide instead of plan and decide.
After the first few days of Naveen's birth we realized how critical sleep was for both of us. I need at least 6 hours of uninterrupted sleep. She needs about 8 hours but can handle waking up a couple of times. After a bit of trial and error, we ended up with a schedule that has worked for over a month now. She takes care of him from 6am-8pm and I take over after 8pm until 6am. She gets to sleep at least 8 hours in between and I get about 5-7 hours of sleep before I start getting tech support phone calls. It's not a perfect system nor is it sustainable in the long-term but it works for us, for now.
In a few weeks my parents will be here and Naveen will start sleeping longer than 3 hours at a stretch. So we'll come up with a new routine. Then just when we're all getting used to it, Juliet will go back to work. Then after a month of another new routine, my parents will return back to India. Then we might get a nanny. Or I might reduce my work-hours over the summer to take care of him myself. Then we might put him in day care. And all of this is just in the first six months of his life.
I can't even think beyond the next few weeks at this point. That's why I'm glad Juliet's taken charge. I'd rather not worry about every doctor's visit or baby development tracking. And I kind of like staying up all night in the living room with the lights dimmed while Naveen sleeps right next to or on me. I'm listening (via headphones at low volume) to nature and science documentaries playing on my iPad all night as I code away peacefully. Every few hours I take a small break to feed, change, and soothe him.
I was pretty concerned before he was born about my role in his early life. I was never worried about being a good role model and teacher once he starts walking and talking but I did not know how I'd be able to help out Juliet while he was still a baby. But surprisingly, everything just came naturally. I don't mean I innately know how to feed, bathe, or clothe a baby - Juliet had to show me all of that (multiple times). I mean it just felt natural to me that this is what I'm supposed to do.
Before he was born, I kept thinking that I will only feel like a real father once he starts playing with toys or climbing trees, so I just have to make it through the first few years and then the fun will start. And now, I don't even want this night to end because he's resting on my chest, snuggling like I am his entire world.
Finally after over two weeks, I got to sleep non-stop for 7 hours tonight. Juliet still hasn't slept for more than 3-4 hours once since Naveen's birth. Meanwhile, it's all easy livin' for the kid: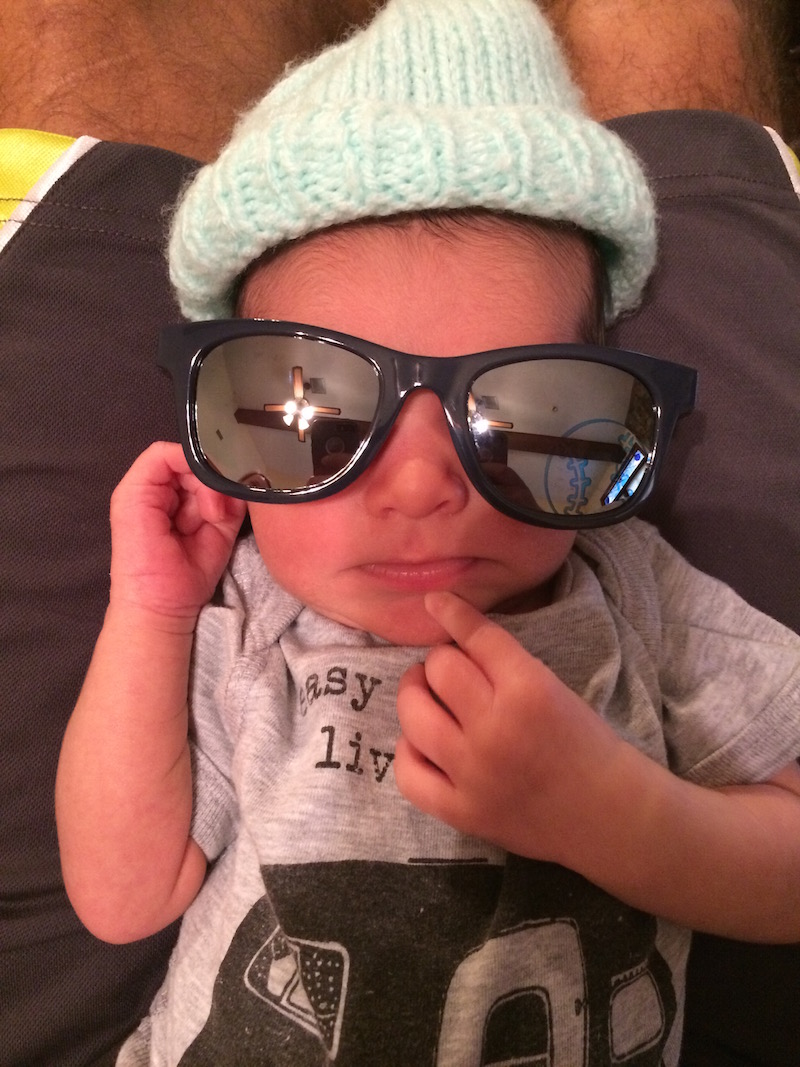 It's been only a week since baby Naveen was born but already, our whole world has changed. We are both singing nursery rhymes, barely sleeping, and learning how to calm the baby. Here are some photos from Naveen's first week.
Happiest announcement of my life: Baby Naveen Mehta born today at noon weighing 6lb 15oz! Both mom and the baby are doing well. He's got my hair, eyelashes, and hands. He's got Juliet's cheeks, complexion, and mannerisms. The name "Naveen" means "new" or "novel" in my mother tongue Gujarati.
Juliet's doing well and despite her early contractions over the past couple of weeks, the baby remains snugly comfortable inside her belly. Though her due date is still 3+ weeks away, I'm not sure we'll have to wait that long. As for me, my old dry cough has returned and I've been coughing non-stop for the past 6 weeks. None of the meds I've taken have helped and I'm going to see my doctor again this week. Thankfully I'm not contagious, just miserable.
So because of my cough and Juliet's contractions, we've been spending almost all of our time at home. The good thing is that this has given us enough time to set up the baby room and clean out the house. We have the bassinet, crib, changing table, car seats, stroller, and most of the nursery all ready. Just waiting for the baby boy now :)
Yesterday we had a blast at our baby shower, superbly organized and planned by Juliet's friend Rebecca. Here are the awesome photos taken by my buddy Arthur.
My life over the past few years has become far from simple. The work I was doing started to get pretty hard and things at home turned serious once my wife began to grow a baby inside her. I feel I have gotten used to everything taking more and more of my time and power just so it is done right. I have never tried to be perfect, but as I grow older, I find myself wanting things to be done my way.
At first, I did not have a way. I just wanted to get things done. So I had to find a way and along that way, I slipped and fell many times. After doing this many a time, I learned that it was important to look before I put my foot down. Then I learned to put my foot down only on dry ground, not wet floor. Then I learned to slow down when climbing down stairs even if they are dry. Then I learned to hold the handles on the side in case someone else was running down and pushed me.
My fear of falling has turned me into a funny old man who takes too long to find where to put his foot down, only walks on dry ground, slowly, and holds on to the handles just so he doesn't fall. Believe it or not, this is the road I made for myself as I learned how to get things done without slipping and falling.
Why am I talking about this now and thinking about such things? Because for the past few months, I have lost a lot of sleep wondering how I will ever show my son all the wonders of this world without him being confused all the time about everything. My grown up life is anything but simple. It has taken me many years to figure out which boxes to fill on what pieces of paper and which keys to push in what order. And I am still learning how to talk to people when things go seriously wrong and when to open my mouth and when to keep it shut.
Growing up has not been easy. Learning has not been easy. Everyone around me keeps telling me how little sleep I will get once I have a child. So if everyone is telling the truth, raising a child, even if it is the best thing in life, will not be easy. What has me worried is that my life, which is already so full of worry, will get even more busy and hard.
That's why I have decided to be simple. I don't mean I still stop working on hard problems or stop filling out the different boxes on important pieces of paper. By simple I mean I will spend more time doing small, easy things that take me back to a life when I did not worry so much. I will spend more time in the kitchen, I will spend more time in the park, and I will spend more time doing things that do not need a computer. These are the things I need to do so I can raise a child.
My problem all this time has been that doing simple things, makes me feel like I am not going to have enough time to do work (both computer and paper work), which causes me to worry about money and keeping my promises. So I avoid doing simple things that could take time away from work. I now realize that that is the true cause of my life becoming so crazy and confusing. I only do things that are not simple! Of course my life has become nothing but simple.
There is no way to suddenly make my work and home life simple. That's not how life works. But the nice thing about a day is that there are only 24 hours and if I spend four or six of them doing simple, happy things with my wife and child, life will start to feel and slowly become simple and happy. Of course the things that worry me will never go away. But starting now, I will stop fighting them every waking hour. It's time for me to smell the roses, make some breakfast, and change a baby.
And to show that I can do simple, I wrote this entire piece using nothing but simple words from a table of only ten-hundred most used words. If you don't believe me, check it out yourself by going here: The Up-Goer-Five. If you have read anything I wrote in the past, I hope now you understand why this piece reads like it was written by a ten year old.
Happy December! 2014 is almost over and our lives have never been busier. Ever since my parents left in early November, we have been busy with planning and organizing for the baby - redoing the master bathroom so we have a proper bathtub, emptying out my office and converting it to a nursery, cleaning out the garage and attic to make storage space for toys, cradles, and clothes.
Juliet is doing well and so is the baby. I love her nesting instinct because it's making her donate/dispose old clothes and furniture. Since our house has lots of storage, we've gotten into the habit of just saving everything. I finally broke my habit when my dad helped me organize all of my paperwork and I threw away years of accumulated junk. Juliet is getting into that mode now and I couldn't be more supportive.
Things will continue to be busy right up into Christmas. If all goes according to plans, we'll have the master bath and baby room ready by then, with plenty of space in garage and attic. After all the house projects are done, we're hoping to take a short weekend away from home and relax one last time before the baby arrives.
Many of my friends have shared their experience of becoming a parent with me and they are all so different. Despite the 8-hour long class on "Preparing for Childbirth" we took last weekend, I still have no idea what to expect and how it's all going to work out. All I know is that I know nothing. Hopefully in a few months, I will start to learn all over again.