A couple of hours ago as we were all getting ready for bed, all of our phones started buzzing with a National Weather Service Tornado Warning. We took the kids and rushed into an indoors bathroom and stayed there from 10:40pm until 11:05pm, wondering how far the tornado was. I was able to view our outdoors cameras on my phone and the rain was coming down heavy. We could hear the wind pick up speed around 10:45pm. Thankfully for us, everything quieted down by 10:55pm and a quick backyard inspection showed no trees down. I'll have to do a thorough walk-through tomorrow and make sure no roof tiles were damaged. We're 4 months away from the hurricane season in Florida but the unexpected alert from a winter thunderstorm felt no less severe.
I heard on the news that there were people injured from downed trees a few miles away from us. Coincidentally just earlier today I messaged my lawn guy to trim down some branches that are starting to hunch near our garage. Such is life in evergreen Florida.
I waited until we got home to announce this because I still cannot believe it really, actually, finally happened! Early morning on November 8th, we got a call from our adoption attorney saying we needed to fly to Arizona immediately because our daughter was going to be born soon! Within an hour I booked the flights, hotel, and rental car while Juliet and Naveen packed up everything. Just as we were locking up the house, we got the word that our daughter Leela was born! We flew to Arizona a couple of hours later and got to hold her the same night! I don't think there are enough exclamation points in the world to describe how we felt looking at her tiny little face and hands and feet!!!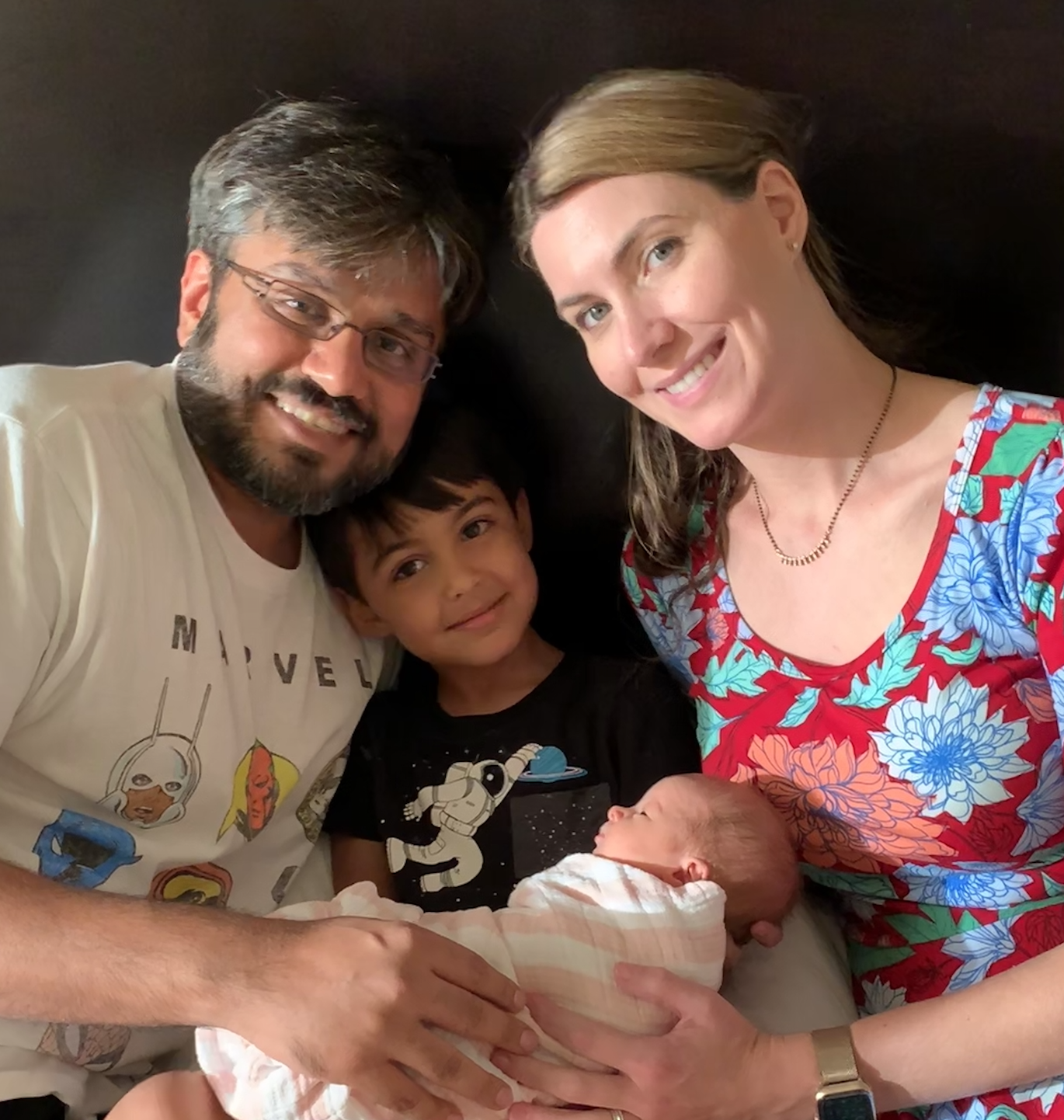 Leela doesn't know it yet but we had been waiting for her for a long, long time. And she is everything we could have asked for. The adoption process has not been easy but holding her for the first time made the years of trials and tribulations worth it. Naveen has been very helpful throughout the process, repeatedly asking us how he can help with the baby chores.
We had a wonderful Thanksgiving Day with lots of food, thanks to Juliet's bestie Rebecca who cooked up a delicious dinner for us while we were on the flight back from Arizona. Juliet is taking some time off from work, my parents are going to come stay with us soon, and the holidays are coming up. Leela is going to be loved and coddled beyond belief :)
It's been four weeks since I started homeschooling Naveen. While I had very modest expectations to begin with, I can honestly say that even my wildest expectations would not compare to how great the past month has been. We've been to more museums, libraries, art galleries, parks, and family events in four weeks than the four years since he was born! I had a handful of measurable goals before we started and he has made progress on all of them.
First and foremost was his weight. Having had an unexpectedly large growth spurt earlier this year, his weight was too low compared to his height. In just four weeks, he's gained three solid pounds! Another improvement is his physical endurance. He would often get tired and not have enough energy to run around. I've been taking him on long hikes and regular classes for gymnastics and swimming. Yesterday he swam freestyle over 100m on his own! I learned how to swim at age 11-12 I believe, so that's a pretty solid distance for a kid under 5. I didn't have any academic goals for him but he has started reading science books on his own now, so that's a bonus.
All of his progress aside, the most uncertain aspect of homeschooling was not how well he would do but how well I could manage it. Turns out, I can. I absolutely love it and want more. I look forward to going on our little 'adventures' daily, even if we just go to the neighborhood park. I don't think I've lost much weight but I've definitely increased my walking endurance. Since I still have a lot of stressful 'grownup' things to handle besides the kid, it's not like I'm living a life of peaceful retirement in sunny Florida. But for a working chump like me, it is as close as it can be.
There is no better feeling than interacting with people who know what they're doing. I often have to contact companies for help with software issues and usually, that involves creating online tickets, filling out detailed forms, going through multiple levels of customer service tiers until I finally reach someone who knows the software well. Sometimes I never even get that far and just give up. But every now and then, I end up working directly with the person who made the software and it can absolutely make my day.
Many years ago I ended up buying a few licenses for Bvckup2 software for work. Backups are a big deal and I cannot afford to have them fail. Ever. But when you have hundreds of users, computers, and tens of millions of files, backups can be a nightmare. There are a thousand different pieces of software that take files from one computer and put them on another. Every use case has a different tool that works the best. For my case, Bvckup2 beats every alternative. I know this sounds like a paid ad but I'm just a happy customer. I've been getting my daily 'Bvckup2 completed successfully' emails for years now and I could not be more satisfied. However, every now and then it fails because of some new issue. Today it was me trying to backup a single file over 2TB to the cloud. No matter what I tried, the backup software kept erroring out.
So I just emailed Alex, the developer of Bvckup2, shared with him some of the log files, and he emailed me the exact changes I need to make to the configuration to fix the issue. This seems like such a simple problem-troubleshoot-solution process but I cannot even begin to describe how rare such an occurrence is for me. I currently have multiple tickets open with a software documentation company, a payroll processing company, a cloud storage provider, a network security firm, and a ton of smaller IT vendors. I swear if each of these companies had an 'Alex' working for them that I could email, I would save so much time each week.
I hope that whenever people interact with me for IT issues, they get the same experience but of course, for complex issues it is not always possible. So whether it is Alex who writes backup software, or Bud who fixed my leaking pool, it is always a wonderful feeling to work with people who know what they're doing.
One week into homeschooling Naveen, I'd say things are going better than I expected. Over the last 7 days, we went to multiple public libraries, museums, art galleries, parks, and a local aquarium. We also worked on a number of minor house projects together and he's gained some much needed weight. The only problem with all of this is... me. I love packing picnic food and planning our daily activities but there's still an annoying voice in the back of my head that says "Why are you chasing butterflies at 10am?! You should be programming!!!"
The weird part about this is that I rarely work at 10am anyway. My schedule for many years has been erratic and I do most of my work in the evenings and weekends. Until last week, most days at 10am, I was either sleeping or slowly waking up. But I would console myself that it's ok, since I worked until 3am. Now that I'm not working insane hours and have a better sleep schedule, not working during daytime feels "wrong" for some reason. I'm hoping it is just a temporary feeling and that pretty soon I will ease into the homeschooling-dad lifestyle.
I've had a lot more time to think lately and that's heightened my desire to write more. Someone suggested earlier today that I should maintain a blog about all of our homeschooling activities but I'm apprehensive. While my parents certainly would like to hear more about the grand-kid shenanigans, I'm hoping to get back to this blog's roots and write about whatever piques my interest. Maybe I could merge the two. On Saturday, we went to Tampa Museum of Art where I talked to Naveen about what art means to me and asked him how he felt when he saw an ancient marble statue or a vibrant painting. I loved that hour or two of us just walking around, speaking out loud our feelings after seeing a piece of art. Sure, it wasn't anything poignant but it was still surprising when I saw a dark city painting and sighed "congestion", he yelled out "skyscrapers!"
I've written here for almost two decades and while things slowed down a bit in the last few years, I feel re-energized to write more once again. Even if I don't end up writing often, wanting to write more, makes me happy. And hopefully, I'll be able to share my happy-little-thoughts with you.
It's hard to recall the last time I was at ease with myself. I have been stressed for weeks, months, maybe years now; constantly moving from one list of tasks to another string of projects, with a few vacations in between. Due to the nature of my work, vacations just mean I have to work significantly more before I leave and have a barrage of issues to deal with when I return. It just feels easier handling 50 emails a day than 300 after a few days away. I've known for a while that such a hectic life was not sustainable but didn't have a good vision of what my life would be.
Last month, life presented a challenge, which turned out to be a golden opportunity for me to simplify things. Naveen, now four, has not been adjusting well to the Montessori school environment. We explored many different avenues over the last couple of years but nothing felt right. After countless meetings with his teachers, caretakers, and school administration, I've decided to take things into my own hands, at least for the time being. I'm not qualified to be a teacher or or even a part-time tutor but there's one advantage I have over everyone who has ever tried to manage him for more than a few hours — I totally get him. It's like dealing with a raw concentrate of 50% Juliet, 50% me. He's highly inquisitive, incessantly curious, and defiantly independent. While these sounds like requisite traits for a 30-under-30 entrepreneur profile, preschools don't exactly line up to recruit non-compliant four year olds.
So I've decided to take over, for now. I say "for now", because all of this is new to me and I have no idea what is going to work out best for him, when. For now, I've changed my work hours to early mornings and early evenings. Weekdays, after breakfast, I plan to take him to museums, libraries, parks, and playgrounds. In addition to these open-ended excursions, we've enrolled him into typical planned activities. Mondays will be swimming, Tuesdays tumbling/gymnastics, Wednesdays arts & crafts, and Thursdays group activities with kids his age. Still trying to find something good for Fridays. Weekends will be same as always - regular family time, birthday parties, and some local traveling.
When I look at this from the perspective of an unqualified educator who has taken up the role of a child's primary education, the task seems daunting. However, when I think that most of my days will now be spent going to museums and parks, I get super excited! I'm guessing the reality will be somewhere in between and that's ok by me.
Today, we're going to the Largo Public Library!
Exactly fifteen years ago, to the day, I started working at a small cosmetics manufacturing company here in Florida. I am so glad that I did. Not a day has gone by since when I haven't learned something new. Having expanded into pharmaceutical manufacturing, the company has grown substantially and so have my responsibilities. I have made many life-long wonderful friends here and learned to become a mature, dependable person.
There is no way I could have predicted in early 2000s that this is where my path would take me but looking back at everything I've experienced, I have no regrets. Best thing I ever did for my career was make an awkward phone call in 2004 right in the middle of RutgersFest to my website client, asking if he maybe, sort of, just in case needed a full-time programmer. I'm glad he did.
Naveen turns four today! We're going to his school to celebrate his birthday with all of his friends. One of the requests from his teachers is that we share one anecdote per year of his life. Here's what we're going to share:
Birth: Naveen came three weeks early. We had some indications that he was going to be early so we did our best to prepare. We had the car seats ready, the crib was setup, and all the baby clothes and toys were organized. We brought him home and realized something we missed - there was no place for us to put him down except for his crib. We hadn't assembled any of the baby rockers or jumpers! So the first hour that Naveen came home, mom held him in her arms while dad built a rocker for him.
Year 1: As per Indian tradition, Naveen got a full head-shave when he turned one. He did not like it! He went to school all sad the next day and all of his friends noticed he was completely bald. So they kept trying to pet his smooth head and all the attention suddenly perked him up. He came home smiling.
Year 2 (option A): When Naveen was two, we noticed some of his small toys kept disappearing from his play area but then mysteriously appeared at the dining table. To figure out what was happening, instead of leaving him with one or two small toys, we left a large pack of tiny plastic toys in his play area. After about ten minutes, I peeked into the play area and all of the new toys were gone! Naveen was waddling around slowly and kept saying "Pants! Snakes in the pants!" He had stuffed all of the toys inside his pants so he could play with them at the dinner table but this time it was far too many toys for comfort.
Year 2 (option B): For Halloween, Juliet showed Naveen a ton of costumes idea online. She asked him which one he wanted and he pointed to the filter for the costume color: red. She clicked on it and the website showed all the red costumes. He still pointed to the little box for the red color filter and kept saying "Red box. I want to be the red box!" So naturally, instead of buying one of the numerous red-colored costumes, Juliet and Naveen spent an entire evening making him a "red box" costume. As we went trick-or-treating door to door, people kept guessing what he was dressed up as. Naveen proudly said "I am a red box!" to anyone who couldn't guess.
Year 3: Last year we went to Weeki Wachee to see the mermaid show. On the drive home, out of nowhere Naveen announced, "When I grow up, I'm going to marry a mermaid!" Juliet was thrilled at the prospect and said "Tell us everything!" So Naveen described how he was going to feed his mermaid wife fish, hold her hand all day, and teach her about the solar system. When I asked how he was going to breathe underwater, he said "No Daddy, I don't want to marry an underwater mermaid. I want to marry an above-ground one." Frankly, he put more thought into his future life at 3 than I had at 23.
The 24-hour news cycle could have unleashed an era of meticulous, nuance-driven news coverage but it gave us an echo chamber of soundbites. Imagine tuning in at 8am for public policy news, 12pm for local project updates, 4pm for geopolitical briefing, 8pm for fiscal analysis, and midnight-to-morning for a summary of global news in the past 24 hours. But instead we ended up with each hour starting with 6min of breaking news, then 12min of expression of shock, followed by 6min of reading of tweets and playback of soundbites, capped with 18min of yelling by disparate panelists. Throw in 18mins of ads and we got an hour of news. Repeat this 18 times a day with a different set of shouting faces and replay 6 of those hours between midnight and 6am and we have the global 24-hour news media format.
No matter the country, language, or channel, the format is essentially the same. You can't fault any specific entity for this because this is the natural order of any attention-seeking broadcast platform. Gravity makes all rocks fall down. 24-hour news cycle makes everyone repeat things 24 times a day. If they deviate from the norm, they lose viewers and shut down, reinforcing the format in the remaining networks.
Social media could have made all of TV news inconsequential. There is no specific air-time and the web doesn't end at 59 minutes. But it didn't fix any of TV's problems, but rather exacerbated them. Whereas TV started with experienced journalists repeating pre-approved talking points, social media gave a loudspeaker to anyone without any barriers. So whereas conflicts of interests sort-of mattered in the TV-era, nobody knows on the internet what biases someone has or which masters they serve. If it is in their interest to create outrage, they will create outrage. And boy have they championed the sport of creating outrage.
How we ended up here is relatively straight-forward. In a winner-take-all voting system, it is guaranteed that voters will end up aligning with one of two major parties. It doesn't matter how educated, rational, or compassionate the people are, if every voter can only select one person on a ballot, and whoever gets the most votes wins, it is absolutely certain that you will end up with two, diametrically opposed parties. And furthermore, over time the parties will continue to get further and further apart. If instead the voters could choose more than one candidate, preferably by ranking their choices in order of preference, then more than two parties can gain support and candidates who unite the people will win, instead of the most polarizing ones.
The same happens on the Internet when image macros, tweets, and 30-second muted video clips reduce the depth of an issue and leave you with only one of two choices - like/retweet/share or ignore. Remember ignoring is treated as dislike by social media algorithms so even if you think you are not making your opinion known, you are. When every bit of content online is judged on how much attention it receives, then only the most attention-grabbing content gets to the top. And there is nothing that gets more attention than something that causes us to fume in outrage and disbelief. How can X happen? I can't believe X said Y! Does nobody care about Z anymore?!
Our natural reaction to all of this is to exclaim that media is biased! Just like everyone has an accent but do not think they have an accent, all news is biased except the news you agree with. But biased isn't bad. Bias is natural. Our biases show where we come from, what values we espouse, what causes we are willing to stand up for. I am extremely biased in favor of legal immigration, interracial marriages, and having pets. Doesn't matter if it is suddenly proven that cats are destroying humanity or computer programmers from India will cause global meltdown in 2038. I'm not giving up my cats and I'm not voluntarily renouncing my US citizenship. I am biased and I stand by it. Biases aren't really a problem. The problem is our inability to recognize the bias in ourselves when we come across rage-inducing headlines and instantly give in to the rage.
I've been online for two decades now and not ONCE have I benefited from being instantly infuriated by something I read online. Not once has my life been better because of a visceral gut-reaction to an image stamped with some words by an anonymous troll. But I can't even count the number of times it has spoiled my mood, which most likely ruined a meal or a day trip. It doesn't matter if I was reading something true or false, important or trivial. All that mattered is that it instantly caused me to change how I felt, regardless of how my life was going normally. I could be having the best day with my family and friends and suddenly breaking news ruins the moment. Two days later it comes out that the original news while true is toothless because of some nuanced stipulation, and all of my rage subsides. The overly simplified news fed my pre-existing biases and caused me monetizable outrage. People made money from me being angry and frankly, I don't want to be a part of it.
So how do I de-bias the news I am consuming? One of the favorite things I learned in a Computer Science class years ago was how to use an unfair coin to simulate a fair coin toss. An unfair coin is any coin where the odds of landing on heads or tails is not exactly 50%, say if the coin is smoothed out on one side, causing it to be lighter and landing slightly more often. Flip a fair coin a trillion times and you would expect close to 500 billion heads and 500 billion tails. But flip an unfair coin i.e. a biased coin a trillion times, and you could get 430 billion heads and 570 billion tails. So how can you use an unfair coin in a fair way?
Just flip twice instead of once. If you get heads followed by tails, that's heads. If you get tails followed by heads, that's tails. If you get two heads or two tails, ignore the results and flip twice again. That's it. This method is proven to give you a fair, unbiased coin toss. Yes, you might have to flip the coin a lot of times in case you keep getting doubles initially - HH, TT, HH, TT, TT. But the first time you get either a HT or TH, you have a fair outcome.
Another trick I learned long ago that involved deciding the fair outcomes between two parties was about splitting a piece of cake into two. While both sides will fight to get the larger piece of the cake, there is a simple way to make it fair - flip a coin to let one party cut the cake into two and the other party gets to take either of the cut pieces. If the cutter tries to cheat and makes one slice much larger than the other, the picker can take the larger piece, leaving little for the cheating cutter. So it is in the best interest of the person cutting the piece of cake to make it as fair as possible.
To save me from outrage, I combine these two methods. First, regardless of how insane a news article seems, I wait 48 hours to decide. In two cycles of 24-hour news, the opposition will either properly refute or the original party will provide additional proof. I am willing to give the benefit of doubt to any side but I am not willing to give in to financially-motivated entities that profit from me to be offended. If something doesn't enrage me two days after I heard about it, then it wasn't worth being enraged two minutes after. Next, I mentally swap all proper-nouns in negative articles to people I like. If the article no longer antagonizes me with the names swapped, then I have proof of my hidden bias and no longer care about the original article.
This is not the proper strategy for journalists or media personalities with influence. They need to do what they believe is right. This strategy is like defensive driving for the Internet. I am not trying to solve the problem with the Internet. I just don't want it to corrupt my mind. Some motorists describe defensive driving as "driving as if everyone else on the road was drunk." I web-surf like everyone else is trying to indoctrinate me into their angry little cult. So far so good.
It started off as an elaborate April Fools' joke in March of 2019. I wanted to prank my friend so I wrote a simple script that used Google's new Duplex AI digital agent to call him at odd hours. The AI voice was "human" enough to fool almost anyone, interjecting pauses with "umm" and "aha", repeating the same thing using different words. Gone were the days of Prof. Hawking's monotone voice. My friend was now being nagged by a believable set of voices who were trying to book a scuba lesson in his non-existent swimming pool, buy his not-for-sale hair, and apply to his world-famous clown college! My script emailed me every hilarious interaction he had to put up with but by the sixth one, he started asking the bots if I was paying them to call him. On April 1st, I called him up and asked him to review some code I was having trouble with and waited until it dawned on him. I heard a series of loud cuss words followed by uproarious laughter.
"You know I totally believed it was real people," he said. "I mean the accents could use some improvement but I honestly believed someone was posting my number on Craigslist or something. I had no idea these were computer voices!"
Over the next few months, I got busy with life and forgot about the script until one evening I had to call my cable company. They had unexpectedly raised my monthly rate without increasing the Internet speed and I figured it was time they heard my true feelings. But I was on hold for so long, I realized that it wasn't worth my time or sanity. "Only a robot could hold patiently for 30 minutes and not get enraged at the poor customer service rep for an unexpected charge," I thought. Maybe it was frustration, maybe it was the prospect of another funny story, but I spent the night rewriting my April Fools' script to bargain with the cable company. The logs showed that it took about 3 tries before an agent at my cable company said "I totally understand you frustration. How about I revert back to your old price but you keep the new speed?" My pre-programmed script sighed "Ok, that will work I guess." I didn't want it to sound too happy lest they might think I was trying to pull a fast one over them.
I shared the story of lowering my cable bill with friends and family and they all wanted to try it out. I just needed them to send me their cable company name and account number. I already knew most of their home addresses. It took a few days but eventually I had a very detailed, realistic script written that could handle most of the top 10 cable companies and it could even change the tone when talking to supervisor. I analyzed the logs and the script worked right off the bat in 60% of the cases and took at most 3 attempts to get 95% success. I eventually created a simple online form for friends of friends to enter their cable company name and account number so I didn't have to manually type things out.
I woke up one morning with a billing alert from Google. Apparently I had used $150 worth of Duplex agent credits in one night! A quick peek at the site analytics told me things had gotten out of hand. Someone had posted my app to their Facebook page. So I did what any broke person who just got his 15 minutes of fame would do - I put a big banner on the page that said "Lower your cable bill by $10/mo" and put a $1 PayPal button under it. No privacy policy, no terms of service. Just gimme a buck and my robots will take care of your problems! It only cost me 10c/call so there was barely any risk. I figured maybe in a few months, the PayPal button will make me enough to offset the $150 I lost.
I woke up next morning with a $540 PayPal balance. Positive balance! Someone popular had mentioned my site on their podcast. By evening, it was $1400 and PayPal shut down my account thinking it was scam. Took all next day to get it unlocked. After a few days, I started getting calls from people saying Company X had started training their employees to ignore my script. So I spent a few hours increasing its vocabulary and fed it a few books on negotiation and customer service. That worked. First month sales were $24,000 and expenses were barely $500!
The next few months leading into January 2020 are a haze. I was receiving feedback and requests from people around the world at an overwhelming rate. I expanded the basic cable-company caller system to handle health insurance claims, Craigslist inquiries, and even added a business-ready module that could reschedule Outlook and Gmail appointments. But the one that went viral was the car purchase negotiator. You simply enter the car make/model and your zip code and my AI bots would look online and call up every dealership in a 100-mile radius. Then it would negotiate the best price, essentially making each dealer bid against the others in near real-time. Once the script reached optimal pricing, you would get an email summary and then could call the dealership to finalize the purchase. Only cost you $25 or if you joined the monthly Gold plan or higher, it was free.
Growth was good and rapid. Soon I had a team of talented coders, a horde of eager investors, and a following of lazy slackers who never wanted to make a phone call again. But replacing phone calls wasn't the end-of-line for us. We had stopped using Google's Duplex once Mozilla released their open-source AI agent framework Firefish, which could do a lot more than talk. It could intelligently fill out forms. So we added a premium "No Snails" service. All of your boring postal mail comes to us and we handle it. Late fees on car rental? We negotiate it down to near $0. Bill for a "free" service that keeps auto-charging you? We cancel it for you! $49/mo is not a lot to live a hassle-free life. The only mail in your mailbox is birthday cards and wedding invites. No more scary IRS bills. Our Platinum plan members got their tax issues resolved automatically.
Maybe it was the public's lack of technical understanding or their faith in our brand, but people stopped thinking of us as an algorithm company. As far as they were concerned we had a call-center full of 100,000 people fighting on their behalf. It was barely 10,000 cloud servers! By the time we needed a million servers, we had acquired ten million paying customers. We were still private, IPOs having lost their charm by the market failures in late 2020s. We wanted to do something special for our ten millionth customer and the folks in travel department came up with an ingenious solution - World Citizen plan.
We already had Full-Life management plans where we took care of almost every issue you could have from picking health insurance to finding the right job. But no matter what we did, everything was location dependent. Even if our system could help a Canadian citizen find a job in US and automatically handle the filling, mailing, and replying to all of the paperwork needed to get passport and work-visa, the person still had to go for an in-person interview for security reasons. What if we could negotiate some sort of deal between both US and Canada where citizens of either countries could bypass the interview as long as they met certain criteria? Well, since most of the politicians in both countries were already Full-Life management customers, it didn't take long for us to convince them to support our World Citizen plan. After all, we already knew our customers in more depth than any interview or background check could reveal.
As far as I was concerned, I had no interest in selling anyone's data or getting hacked. Sure we experienced the odd instance of run-of-the-mill corporate espionage but securing our systems remained our top internal goal. This helped sell the World Citizen plan to more than the North American politicians. Soon Europe, Africa, and India joined in. Beauty of the World Citizen plan was that since we managed the application and approval process on both side of member countries, our customer's didn't even have to proactively apply for a visa. Instead our travel department would suggest places for them to visit as soon as they became eligible for a visa.
It took a few years but we finally worked out the kinks in the visa-free travel process. Terrorism had always been the primary threat to visa-free travel and we found a unique solution, that our customers surprisingly didn't hate - bank with us. Once a customer moves 100% of their banking, investment, and credit accounts to our system, we could easily detect and prevent illicit activities. We weren't as interested in preventing crime as in having non-criminal customers. Shady financial stuff got you banned from our service permanently. And if you wanted to appeal, you would have to fill out the forms manually and make the calls personally. There was little incentive for criminals to join our service.
For the next decade or so, we continued to acquire more customers and around the time the ten billionth baby was born, we added our third billionth customer. Of these three billion paying customers, 400 million were on the World Citizens plan. We were essentially the fifth largest nation in the world albeit without sovereign borders, currency, or elected officials. We did have a flag though and although it wasn't planted on any planet or moon, it was quite popular among new customers.
Things seemed to be going well for us and our customers well into the mid-2040s but then things took a turn for the worse quite quickly. Our non-customers revolted globally and continued to do so with an unyielding frenzy. We all understood why but we didn't know what we could do that didn't further spread violence. They either made too little to afford our service or had history (criminal or objectionable as per our internal standards) that prevented them from signing up for even the Bronze plans. These folks rarely got approved for visas now that most of the UN countries had signed up to the World Citizens registry. They had a hard time beating our AI at finding decent jobs, dates, or even restaurant reservations. Our AI lawyers beat their AI-aided human lawyers in 90% of the cases and our banking system was better insured than most countries' reserve banks. In nutshell, if you were our customer, you did not have to worry about bureaucracy. Sure it cost you a bit more to get your kid enrolled in a prestigious school but you can be sure that once you set a $3500/mo budget, our system found the most optimal school that fit your budget, education goals, and even your morning commute. The school didn't have to update their enrollment process or website. Our system did everything like you as a human would have via phone, snail mail, and web, just at a thousandth of the cost and with nary a care.
As proud as we were of everything we did for our 3/10th of the human population, it wasn't great to be part of the other 7/10th. So after a few tumultuous years, on Jan 1st 2050, we made the entry-level plan free for everyone without a bad history. Bam! Five billion new users in a day! The rest were mostly kids under 13 or ineligible to sign up.
Looking back at my life, I am proud to say that I helped improve the world in my own unique way. No, I didn't cure cancer and didn't eradicate world hunger. I barely donated to charity beyond what my Full-Life Tax AI suggested. But I'd like to think that I made the world a better place because I got rid of stress and misery on a global scale. We are all but human. I never expected us flawed humans to always do the right thing and I could never convince politicians to fix the laws or update their convoluted processes. All I could do was write a few automated scripts to make living less bothersome. Who knew it could end up touching so many lives! And to think it all started as a joke online.