Happy December! 2014 is almost over and our lives have never been busier. Ever since my parents left in early November, we have been busy with planning and organizing for the baby - redoing the master bathroom so we have a proper bathtub, emptying out my office and converting it to a nursery, cleaning out the garage and attic to make storage space for toys, cradles, and clothes.
Juliet is doing well and so is the baby. I love her nesting instinct because it's making her donate/dispose old clothes and furniture. Since our house has lots of storage, we've gotten into the habit of just saving everything. I finally broke my habit when my dad helped me organize all of my paperwork and I threw away years of accumulated junk. Juliet is getting into that mode now and I couldn't be more supportive.
Things will continue to be busy right up into Christmas. If all goes according to plans, we'll have the master bath and baby room ready by then, with plenty of space in garage and attic. After all the house projects are done, we're hoping to take a short weekend away from home and relax one last time before the baby arrives.
Many of my friends have shared their experience of becoming a parent with me and they are all so different. Despite the 8-hour long class on "Preparing for Childbirth" we took last weekend, I still have no idea what to expect and how it's all going to work out. All I know is that I know nothing. Hopefully in a few months, I will start to learn all over again.
After two months of staying with us, my parents left today. We had a great time traveling around Florida and just spending time with each other. They got used to our home zoo and Juliet and I got used to having nightly dinner chats with them. Now the house is back to being empty but only for a few more months! Juliet is doing well and the baby-boy-in-belly is quite active. With the due date getting closer and holidays coming up, life's going to get a lot busier for both of us.
I had a very exciting and eventful birthday. We had a late breakfast at the Vinoy and lazily walked over to the International Curry Festival where we had delicious Indian and Thai food over the course of a few hours. Then we went antiquing, followed by an hour at the SPCA, petting kittens and rabbits. We got home and Juliet and my parents had cake ready for me. Lots of people I know complain about getting older but I love it. Here's looking forward to another year!
Today we found out that we're going to have a baby boy!!! Juliet is doing well and so is the future baby boy. We took my parents to dinner, along with our friends Rebecca and Carlos and revealed the baby's "blue" theme via a delicious cake.
While Juliet has been super cheerful all day, my parents and I are admittedly speechless. Juliet asked me why I didn't seem as excited as her and all I could say was that I don't know how to express a lifetime's worth of prospective happiness in a single day. I'm used to being happy about a toy here and a kitten there. How does one express the sheer infinite joy of everything that awaits us in a singular emotion?
My parents are staying with us for 6 weeks, then leaving for India, and returning back in January 2015. My grandma will be here in a month and stay with us for 2 weeks. I would love for her to return back in January with my parents but at her age, I don't know if 32 hours of travel each way is doable. Here's hoping she gets to meet her great-grandson someday soon. In the meantime, I'm going to make sure Juliet stays relaxed, stress-free, and healthy.
Last Saturday, my parents & uncle/aunt arrived in Tampa. This was the first time my parents have been to the US since I came here in July 2000. They're all on a 7-day cruise right now to Jamaica and Mexico and my parents will stay with us for a couple of months afterwards. This is the first time in 15 years that my parents will be present for my birthday. Also, we haven't spent this much time together except for the 45-day vacation I took to India in the summer 2002.
Apparently I had put my blog on hold back then because I was having too much fun in real life (and also because dial-up sucked in 2002). Now I wish I hadn't, as I only have vague memories of what we did over that month and a half. Good thing broadband is ubiquitous now. Even if we do mostly mundane stuff, I hope to write it down for posterity.
Since my parents left for the cruise within a day of arrival, we didn't get much time for activities. Those will happen in the upcoming weeks. Though I did manage to wedge in a fun airboat ride in the Everglades for everyone just before I dropped them off to the cruise terminal. And best of all, they got to see our home zoo with all of the critters.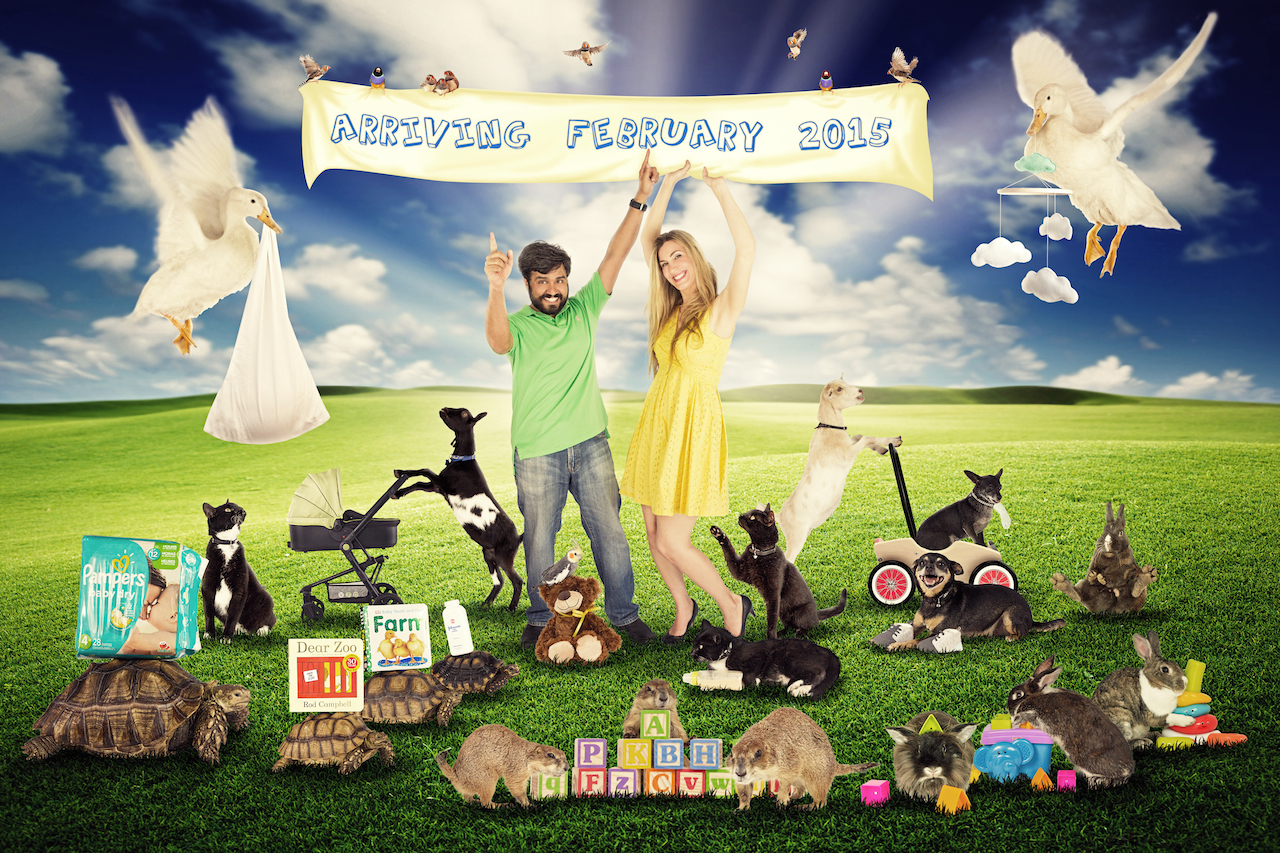 Good news everyone! Juliet is 13 weeks pregnant now and we are very excited. My parents are coming to visit us in a few weeks and we hope to spend a lot of family time together.
My friend Tony created the glorious announcement image above from photos taken with the help of our friend Kelly. We took individual photos of all of our animals and even balanced diapers and baby powder bottle on the back of our tortoises.
While no animals were harmed in the making of this image, I was peed on, pooped on, spat on, licked, clawed, gnawed, and thoroughly scratched while helping Kelly and Juliet take all of the individual animal photos. I'm not complaining though. I think of it as training to be a parent.
Our beloved cat Cookie passed away tonight. He had been Juliet's little boy since his birth over a decade ago. Six years ago, he met my cats Giga and Tera and taught them how to be more cat-like. Before meeting him, my cats were lazy, fat, and afraid of the outdoors. A few months of spending time with Cookie and my cats started climbing trees. Cookie was a perfect cat and always came running to us whenever we called out his name. He loved playing with our puppies and roamed the neighborhood making feline friends. We are going to miss him so much! RIP Cookie :-(
My cats Giga & Tera are officially 10 years old today. They shall enjoy a feast of treats and lots of cuddles.
We celebrated our sixth wedding anniversary by having a nice relaxing day and a scrumptious dinner at Spoto's Grill 131. Yesterday, we unexpectedly ended up at a petting zoo in North Tampa where Juliet got to feed a baby possum. Now that I think about it, in the last six years, we've ended up at a lot of places unexpectedly. Restaurants, antique shops, flea markets, parks. Usually I plan almost everything in advance so it's fun to get a bit of unexpectedness every now and then.
Earlier today, Juliet and I were trying to remember the exact date something happened last year. We narrowed it down to a specific week and then figured out the specific date because we knew it was a Friday. It takes a lot of effort to remember past events, mundane or momentous, from just a year ago, let alone a decade. That's part of the reason I love writing this 'blog. Once I say "Today I went to the animal shelter and got two kittens" or "My car hit 33,333 miles yesterday at 1:23pm", it is remembered forever. This Saturday, Juliet took my car to go shopping with her friend and hit 111,111 miles. Thanks to technology, I can store irrelevant bits of information like this until the end of time. But not all bits are so trivial.
Four years ago, today was a day of mourning for my family when my paternal grandpa passed away. I wrote a few words about how I felt and have re-read them every year on this day. Almost a decade ago I wrote about the death of my maternal grandpa and the memories I had of visiting him during summer vacations. Sad or happy, exciting or dull, all I'm doing is writing down memories before I forget them.
Sometimes I don't write important details because I may not be ready to share it with anyone but I still like to write a bit so maybe later I can refer to it. The day I met Juliet, I wrote "Today turned out to be yet another unusual day" without even mentioning her. Eight months later, when she flew off to London to meet my parents, I harkened back to that unusual day when we crossed paths and set in motion the Universe's plans to create the cuddliest home zoo ever. Who knows what's going to happen in the future but it feels good to write things down so that some day, we can look back on a particular day and re-live it, even for a brief moment.