We celebrated our sixth wedding anniversary by having a nice relaxing day and a scrumptious dinner at Spoto's Grill 131. Yesterday, we unexpectedly ended up at a petting zoo in North Tampa where Juliet got to feed a baby possum. Now that I think about it, in the last six years, we've ended up at a lot of places unexpectedly. Restaurants, antique shops, flea markets, parks. Usually I plan almost everything in advance so it's fun to get a bit of unexpectedness every now and then.
Earlier today, Juliet and I were trying to remember the exact date something happened last year. We narrowed it down to a specific week and then figured out the specific date because we knew it was a Friday. It takes a lot of effort to remember past events, mundane or momentous, from just a year ago, let alone a decade. That's part of the reason I love writing this 'blog. Once I say "Today I went to the animal shelter and got two kittens" or "My car hit 33,333 miles yesterday at 1:23pm", it is remembered forever. This Saturday, Juliet took my car to go shopping with her friend and hit 111,111 miles. Thanks to technology, I can store irrelevant bits of information like this until the end of time. But not all bits are so trivial.
Four years ago, today was a day of mourning for my family when my paternal grandpa passed away. I wrote a few words about how I felt and have re-read them every year on this day. Almost a decade ago I wrote about the death of my maternal grandpa and the memories I had of visiting him during summer vacations. Sad or happy, exciting or dull, all I'm doing is writing down memories before I forget them.
Sometimes I don't write important details because I may not be ready to share it with anyone but I still like to write a bit so maybe later I can refer to it. The day I met Juliet, I wrote "Today turned out to be yet another unusual day" without even mentioning her. Eight months later, when she flew off to London to meet my parents, I harkened back to that unusual day when we crossed paths and set in motion the Universe's plans to create the cuddliest home zoo ever. Who knows what's going to happen in the future but it feels good to write things down so that some day, we can look back on a particular day and re-live it, even for a brief moment.
What a busy weekend we had! Juliet and I are both halfway between introverted and extroverted. We love entertaining friends and family but we can only do that comfortably in small groups for a few hours at a time. We have been trying to plan a 50-60 people party at our house for three months now but have not made any progress yet. While we haven't been able to pick a date due to circumstances beyond our control (landscaping guys took too long, house projects got delayed because of damaged shipments etc.), I think even if everything was lined up perfectly, we would still be hesitant to get started because we're just not the big-party-for-no-reason kind of people.
In the meantime, we have been inviting all of our friends to come visit us any time they want. Coincidentally, a dozen folks visited us this weekend and it was awesome. It felt like Diwali back in India! My godson Jackson, his mom, and his cousin visited us Saturday morning so they could play with our home zoo. Then my buddy Brian came over for some serious table-tennis time, followed by Juliet's friend Karen and her three kids. Sunday morning my friend from Philadelphia Megan and her husband Chris dropped by to spend an idle day by the pool. In the evening, our friends Cary and Laura stopped by to bid us farewell before they move to Arizona this coming week.
Ten years and a week ago, I moved to Florida with the help of my buddy Arthur. For the past week, I have been trying to come up with something meaningful to write about the whole decade that passed by - words of wisdom, lessons learned, top 10 most embarrassing moments - anything to summarize the ten years of life I have built here. But now I realize that is pointless because it doesn't matter if I'm still driving the same car I bought in 2004 (I am!) or gained weight (15lbs/7kgs, mostly due to my awesome beard) or have lost friends or made new ones (who hasn't?). Life happens to all of us and while I made mistakes and learned or didn't learn from them, so did everyone else in their own respective lives. All I know is that ten years ago I was alone in the whole state of Florida and this weekend I couldn't find one minute of alone time to write this entry.
I used to fear ending up with a life where I would have a full, busy schedule. I was and still remain fiercely against living an eventful life where a lot of things happen every day. If a scheduling genie was granting three wishes, I would ask for (1) my email/voicemail inbox to be always empty (2) my to-do list to contain only one important item per day, and (3) absolutely no preset meetings or appointments.
Since I have not yet met a scheduling genie, my life continues to be a constant barrage of planned and unplanned events, tasks, commitments, and projects. Something is always going on. Be it house projects, work deadlines, or social obligations, there is something new happening every day. I have to maintain detailed to-do lists, from "server deployment plan" to "garage cleanup list" just so I can keep up with everything.
I am living the exact life that I feared.
But it's ok. I am getting a lot done in the meantime and I am slowly working towards a life that is closer to my ideals of doing just one thing and doing it right. Be it work or play, I avoid distractions and interruptions. I have never been a fan of multitasking. I don't check my phone when I'm having dinner or plan dinner when I'm on a conference call. Even though I am not in a position to live the idyllic leisurely life I want right now, I will never going to stop trying. I truly believe that nothing is more productive and beneficial than distraction-free single-minded focus, be it in work or play, business or charity. And a full, busy schedule is the antithesis of that.
In 2008, Iron Man I came out. I really wanted to go see it. I asked a few friends and nobody could make it. I asked coworkers and nobody could make it. I got bold and asked out a cute girl I knew and she couldn't go either. I went home and went to sleep early because I was so distraught. Over 7 billion people on this planet, a million of them in my own town, and not a single person wanted to go watch a movie with me.
But then suddenly out of nowhere, I thought, "Hey I can just go by myself. It's 10pm, late enough that chances of any embarrassing run-ins will be low, but not so late that I'll be late for work tomorrow." So I go out of bed, dressed up like I was going out with friends, bought a single ticket, and enjoyed the movie thoroughly. As I drove home, I called my best friend to say how great the movie was and that he should definitely see it. Next day I talked about the movie with my other friends and coworkers. I was constantly scared of them asking me "Who did you go see it with?" but surprisingly, nobody asked me.
Without realizing it, I had overcome my fear of rejection. The next day I told the same cute girl that I was going to the local mall and she should meet me there. She liked how confident I was and said why not. We had a great time at the mall and met up more often later. Soon she moved in with me, then we got engaged, then we got married. It's been the happiest six years of my life and I don't think any of that would have happened without that single ticket to Iron Man I.
I decided to write this down because I came across someone else online who didn't have a friend to go to the movies with.
We went to my old college friend Michele's wedding this weekend and had a great time. I'll post the photos soon.
Right now, we're in the middle of a lot of house projects: reorganize garage, level backyard, setup goat area, fix up bathrooms, and lots of minor upgrades. As soon as the goat area is ready, I'll share the pics.
Life's pretty busy with a lot of different things lately. Other than coding projects that keep me up all night, I've been dealing with a lot of boring but important paperwork for insurance, health, travel, and financial planning. I calculated that we pay more for insurance than any other expense except for taxes. We have home hazard insurance, flood insurance, mortgage insurance, health insurance, term life insurance, accidental life insurance, disability insurance, professional liability insurance, and auto insurance. On top of that, we pay for cellphone insurance (which I've availed of twice already thanks to my recklessness), pet health plans, and travel insurance for every trip we take.
Speaking of travel, now that I'm a US Citizen, I have to apply for a visa to travel back home to India and the paperwork for that is surprisingly exhaustive. I'm hoping that my schedule will become a bit more relaxed over the next few months once I've dealt with all of these tasks. Until then, it's just one thing on top of another every day.
I don't know who this guy is but he is making me question my existence more than Descartes or Nietzsche ever did. For the first time in my life, I have found a doppelganger. Well, it was actually Juliet wondering what I was doing on a beach without her. It appears we both spend quality time on beaches flailing our arms around, wear garish clothing, sport a manly beard, and refuse to bow down to the tyranny of barbershops. To you Sir, I say "Congrats on being almost like me!"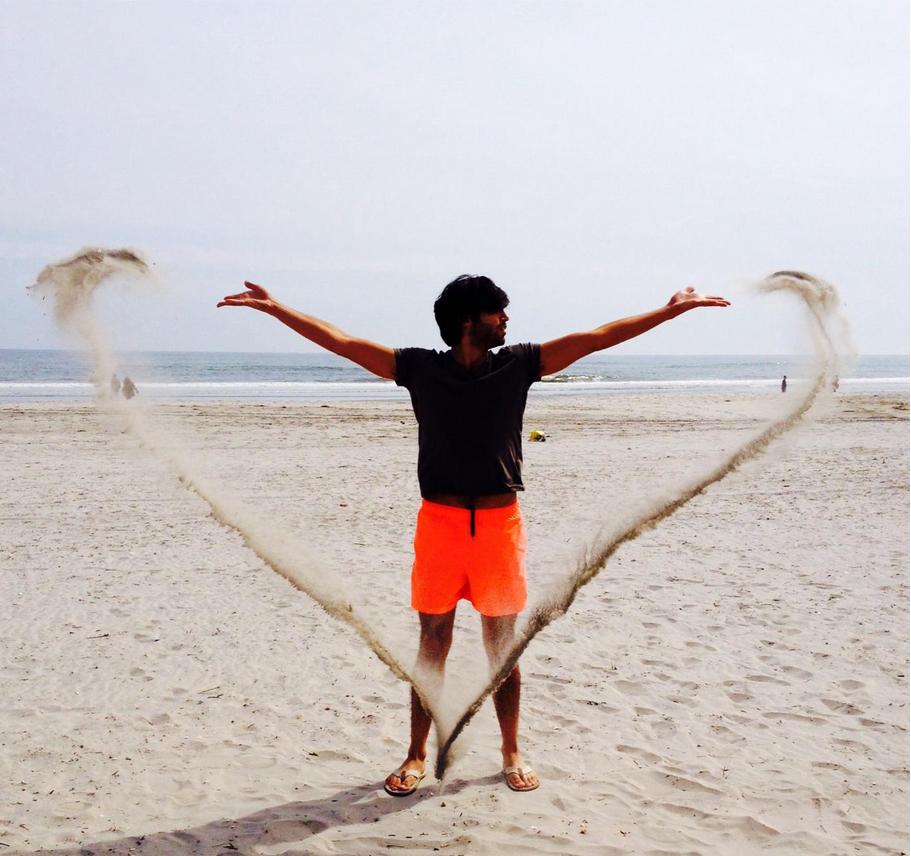 After years of waiting since our first encounter with Nigerian Dwarf Goats, we picked up our own baby goats this weekend! World, meet Marco & Polo!
They constantly call out to each other when separated. Hence the names: Marco - Polo. Marco's the older black & white baby goat and Polo is the little waffles-colored kid.
The first four photos are from two weeks ago when we first saw them at a farm up north and the rest are from this weekend at our house. Right now, they're staying in a make-shift enclosure in the porch. Over the next few weeks, we'll setup a nice shelter for them next to the Prairie Dog and Rabbit enclosures in the backyard, and build a protection fence around the whole area so they can safely chomp grass all day.
I also uploaded the pics from our weekend trip to see family in Utah last month.
Tonight, we went to see the comedy musical show Disenchanted with our friends Cary and Laura at the Straz Center in Tampa. I knew it was going to be funny but I had no idea it was going to be utterly hilarious. The play is a sarcastic take on the Disney's Magic Kingdom universe, comically yet bitterly mocking tropes like damsel in distress, prince charming, once upon a time, and happily ever after.
While I had read many positive reviews of the show prior to the ticket purchase, I expected the quality of the performance to be mediocre. Instead I was blown away by how beautiful the artists' voices were and how well the live orchestra performed. The lighting, sound, set design, and costume design were very well done, and although the theater and stage were small, it felt no different from any big budget Broadway show.
Take a look at this cellphone photo I took at my friend Rick's house, peeking directly into his telescope. Try to guess what it is. Scroll down for the answer.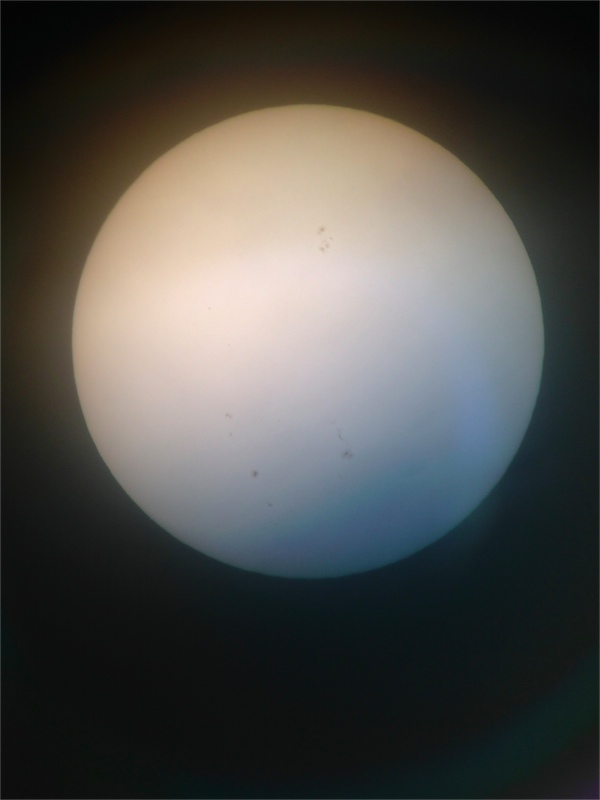 It's the sun through a special solar filter. You can clearly see the sunspots as the dark smudges.