I've spent almost the entire year planning, designing, and repeatedly modifying the duck and tortoise area you see in the photo below. I worked with my wonderful neighbor Bevv (who did the initial design), my handyman Dan and my lawn expert Chris to build it all.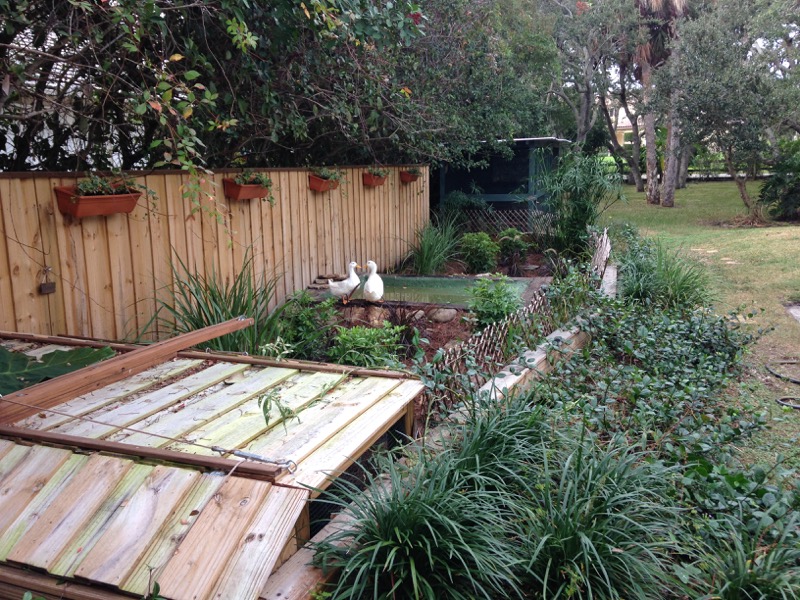 We have a large Sulcata tortoise (Lola) who lives with the two ducks (Peek & Poke). Here are the major structures:
Fence: The back portion is just a typical fence with a stained wooden 1" trim on the top, everything held up straight by 8ft 4x4s. The side and front edges are 4x4s piled on top of each other, with 6ft iron rods drilled straight down through them with concrete at the base. Then we piled up dirt on the outside and planted a variety of greens. Since the ducks kept jumping out and chased our small Chihuahuas around the whole yard, I added the wooden criss-crossed trellis around the front. A primary reason for making the fence solid is that it prevents the tortoise from trying to scale it.
Enclosure: They all sleep in together in the wood enclosure built by Dan (towards the bottom left of the picture). The enclosure is heated by infrared bulbs on thermostat set to turn on at 70F. The enclosure has a front-flap that can be raised up with a simple pulley and hooked on the side to keep it open during the day. At night I just lower it. There is also a back flap that you can open up like the trunk of a typical sedan and we use that to fill up water/food. Also very useful when I want to hose out everything. There is a small mesh on one side of the enclosure to make sure it doesn't get too hot in the summer. If it gets too cold, I can put a small blanket on it to keep the warmth in.
Pond: This was the most difficult thing to get right and I spent more time, money, and effort on it than anything else. Initially we had one of those pretty koi-style ponds with a big pump and filter as you can . I was prepared to deal with duck poop but I had no idea what the tortoise had in store for me. The tortoise ate grass all day and clogged the pump, filter, and pipes so bad we had to scrape the entire pond and rebuild. The pond you see now has a simple gravity drain. It is a large stagnant pond which gently slopes to the back. There is a 4" PVC pipe that drains everything out towards the back of the yard. There is a single heavy-duty valve that I can access without getting into the duck area which empties the pond within 30 seconds. I hose off any messes on the pond, close the valve, and refill. Takes about 10 minutes. The ducks and tortoises get fresh water and I barely have to do any work to keep it clean. I'm pretty sure I can use the drained material as fertilizer around the yard.
Plants/ground-cover: These I left up to Chris. We tried typical sod in the middle but the tortoise kept eating that instead of her food. Also the ducks made a mess everywhere. So we opted for pine-straws and lots of small shrubs. We planted Jasmine on the outside of the front fence and bunch of other flowering plants like Lily of the Nile. The planters will hopefully grow long enough to cover the back fence soon.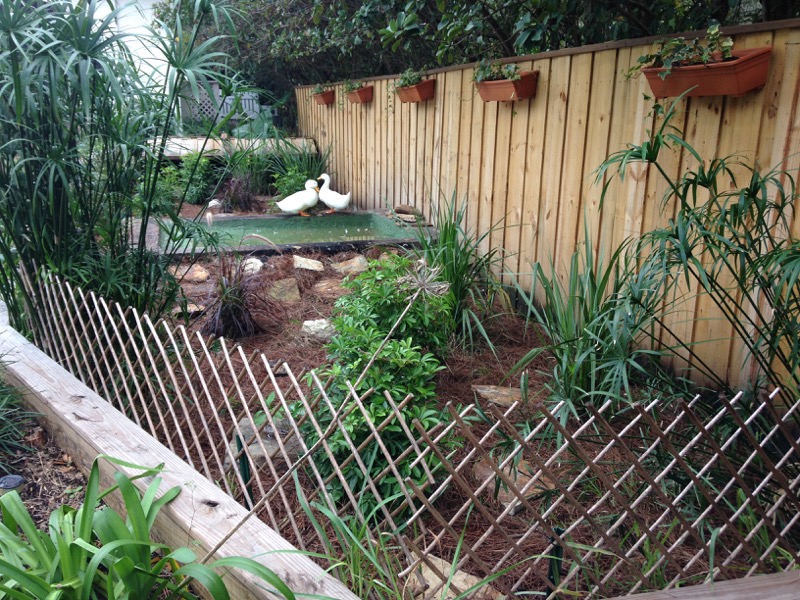 We got the ducks last Christmas and I have spent the entire year getting this area setup just right. The ducks are SO happy and the tortoise is very active too. While I may not have done much work with my own hands, I came up with all the little solutions for each tiny problem and trust me there were many. We wanted our critters to live as close to their natural habitats as possible and I think we got it pretty close.
Life's been pretty busy and eventful lately. I passed the United States citizenship interview last week and will soon be able to vote in elections (though not run for the President of United States position). I rented a tuxedo for the first time in my life yesterday and will be wearing it for our friends Billy & Lisa's wedding tomorrow. I went to his bachelor party this weekend in St. Augustine and had a great time. We're hosting our first Thanksgiving dinner next week with friends and family. We've spent the past two years fixing up our house and finally after a new air conditioner and pool pump/motor, I feel we're about done. We even bought a long carpet for our hallway and a replacement oven for our kitchen last week. I think it's about time we had a big house party!
It's finally getting cold here in Florida. Past few winters, I spent a lot of time bringing the tortoises and other critters indoors during cold nights and taking them out on sunny days. Each time I brought them in, I spent a lot of time cleaning their indoor enclosures daily. After getting tired of that earlier this year, I decided to modernize my zoo and bought four infrared heat lamps with reflectors and two thermostats. Though it was hooked up months ago, today is the first time I turned the system on and I'm ecstatic to say it's working perfectly!
The tortoises and ducks are being kept warm at 70F-80F (20-25C) in their outdoor enclosures and I don't have to wake up at odd hours in the night and early morning to check up on them. I made sure that the lamps were installed at a safe height and the circuitry was completely sheltered from rain. Additionally, since these are infrared lamps, they don't shine bright or interfere with the animals' sleeping cycles.
In the large scale of things, putting a couple of lamps is not a big deal but the relief I get from not having to worry about the temperature each night is worth it. Of course, tonight I've been behaving like a kid and keep checking the heat lamps every few hours just so I can feel giddy whenever I sense the warmth on my hands.
If you have been confused about the US Government Shutdown, here's an overly simplified fast-food analogy of the situation courtesy of reddit:
"Alright so to confirm, we'll be getting one party size pepperoni and mushroom pizza with olives, right?"
"WAIT NO! I DON'T WANT OLIVES!"
"But we all agreed that we wanted olives."
"WELL NOT US!"
And so the U.S. shut down every Pizza Hut until an agreement could be made. Those who shutdown the Pizza Huts still get pizza. Note that olives were voted on as something that should go on the pizza three years ago, but then some new guys showed up to the party and decided to be stubborn about the olives and refused to accept the olives unless you took the cheese, sauce and bread off the pizza.
While making plans for Thanksgiving, I just realized this year it falls on November 28th. As Thanksgiving is celebrated on fourth Thursday of November in the US, the latest it can occur is indeed November 28th (1st November being a Friday). Since 1990 this is only the fourth Thanksgiving to fall on November 28th. The next one will be in 2019.
People usually start shopping for Christmas gifts after Thanksgiving. The later Thanksgiving falls, the less time there is for shopping. The earliest Thanksgiving can occur is on November 22nd, almost a week earlier. Number of potential shopping days range from 26 (November 28th) to 32 (November 22nd). Since the period between Thanksgiving and Christmas is the busiest shopping period for almost all retailers and e-commerce companies, reducing the duration by 20% can have one of two effects: (1) average sales/day go up because people still need to buy all the gifts or (2) average sales/day remain stagnant because people don't have enough time/money to buy all the gifts, reducing sales. Adjusting for typical business cycles, it would be interesting to see whether (1) or (2) happens.
Life's going on as usual down here in Florida. I've been keeping myself busy with a variety of computer, house, and home zoo projects. Now that Juliet has a predictable work schedule, we've been spending a lot more time together doing typical married-couple things. We went to the farmer's market on Saturday and bought fresh fruits and vegetables. We're cooking more at home and living a pretty healthy lifestyle (except for my late night programming sessions).
I've already written about not writing more often before so no point in repeating myself but it's not the lack of time that has kept me from updating my 'blog - it's my state of mind. There are just too many things I can write about but don't know if I should even bother. Had Snowden, Syria, or Sequester happened a decade ago, I would've written numerous passages elucidating my thoughts and expressing my cynicism on every topic. But now it feels pointless to write about things I have no direct involvement in. Everyone is getting their news from the Internet today, no point in being one more source of textual drivel.
Even though we are all affected by the news indirectly, my opinion on each matter no longer compels me to stand up on a pulpit and yell them out loud for everyone to hear. My opinions have not gotten any milder, just my desire to voice them publicly. I wonder if this has anything to do with age/maturity or rather my current lifestyle, which is very laid back and full of non-stressful creative outlets. Do I (a) spend an hour writing about what the morality of doing X is, (b) go out for an evening walk with the missus, or (c) build a gravity-drain for the duck pond so it is easier to clean up? I used to choose (a) but now I'm choosing (b) and (c) a lot more often.
In a way, I am happy I don't have much to write about lately. It means everything is alright within and without my head. And if I really feel like typing furiously at the keyboard, I'll avoid online debates and channel that energy into writing something positive on my 'blog. Till next time!
We got back home late last night after a two week vacation to celebrate our fifth wedding Anniversary. We went on a weeklong cruise to Alaska and then spent nearly a week in Seattle and neighboring areas. Here are the Alaska/Seattle photos.
I also finally uploaded the photos from our trip to India last year.
Exactly five years ago today, Juliet and I got married. The past five years have been a dream come true. Our life together is everything I ever wanted and beyond. We're celebrating our anniversary this weekend so for now, all of my plans remain a secret. It's going to be marvelous!
Last week, my friend Brian brought his African Grey parrot Marley to our house. We are taking care of Marley until Brian returns from vacation. Marley is staying in our porch and keeping the dogs, cats, and me thoroughly entertained. Throughout the day, he whistles and I whistle back. He has even tricked me a few times by reproducing my phone's ring tone and the home security alarm's door-open beeps.
Speaking of birds, the ducks are getting quite devious. Despite being flightless ducks, they have managed to escape their habitat almost every day this week to chase the dogs. Yes, our ducks routinely glide out of their enclosure in order to scare the living daylights out of our Chihuahuas. While they do not actually hurt the dogs and just chase them playfully, it scares the dogs and we had to put a stop to it. Sunday before last I raised the height of their enclosure fence to three feet and after a week of no trouble, they figured out that if they took a running start and flapped their wings hard enough, they could just about clear the fence. So today I finally did what I have been trying my best to avoid - trim their flight feathers a.k.a. wing clipping. This makes them unable to gain altitude while still allowing them to glide down safely from a perch.
The problem with having animals as pets is you face moral dilemmas on a nearly daily basis. From the very question of whether we should even "own" animals and keep them locked up in our domiciles to how much money should you spend to prolong the life of a loved pet, a pet owner constantly has to walk the fine line between what is humane and what is not. I thought that with time, my views about pet ownership would change but surprisingly have remained the same despite the 18 critters we have (19 until Marley goes back home).
I do not believe in caging any free, wild creature, whether it is a common duck or a rare chameleon. Nature belongs in nature. I am vehemently against private ownership of exotic animals solely for entertainment purposes. However, I am perfectly ok with some exceptions - well cared for animals in nature preserves, rescue habitats, and limited number of good quality zoos. The three simple reasons for the exceptions are education, rehabilitation, and rehoming. Since our babies are re-homed from local animal shelters or pet-owners who could not take care of them, I have no qualms about giving rent-free residence to 3 cats, 2 dogs, 4 tortoises, 2 prairie dogs, 5 rabbits, and 2 ducks.
Now that we have a veritable collection of mostly-tame wildlings, it is imperative that we take care of them to the best of our abilities even if appears unnatural at first glance. Sometimes that means separating the two boy bunnies because they keep fighting and sometimes that means trimming the feathers of ducks to prevent them from hurting themselves and our other pets. Don't worry, trimming the feathers is painless for the ducks and they grow back just like our nails.
One thing we never try to do is change their nature. Prairie dogs like to dig. Ducks like to swim. Dogs like to bark. Cats like to scratch. And Marley likes to whistle. It would be inhumane to force an animal to go against their natural instinct just because it is inconvenient for us humans. We have worked hard to ensure that each of our pets has the perfect habitat to best suit their natural environment. And every now and then, they surprise us. Herbert and Phyllis the tortoises love eating purple flowers from the Petunia plants that we planted for shade. Prairie dogs love climbing high up on the metal mesh we used to build their enclosure. And Lola the tortoise loves swimming in the duck pond.
Every day is a zoo day. Here's a photo of Marley & Me: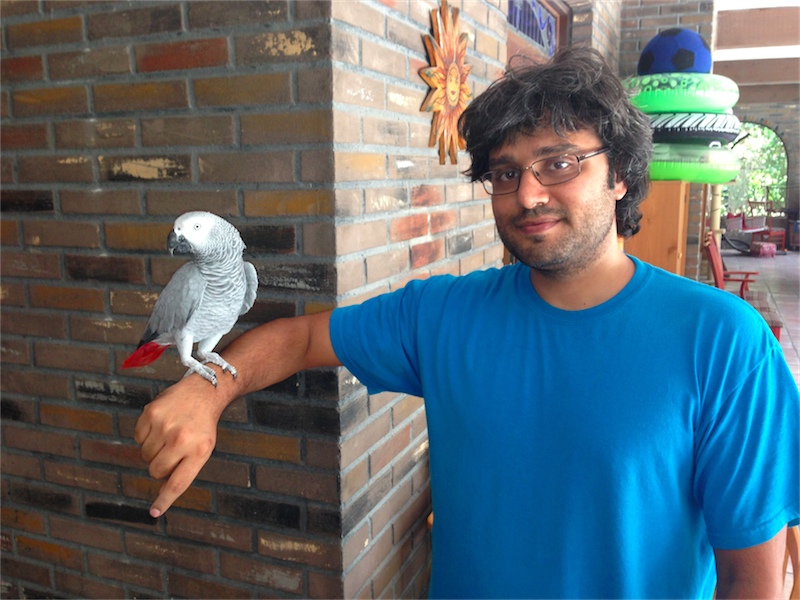 I have been pretty quiet lately, not just on my 'blog but also socially. While things have been quite busy between research, work projects, and house projects, my silence has not been for a want of time. Over the years, I've scheduled my life so that I have ample time to relax and unwind every day. I think my recent taciturn attitude has more to do with a gradual but noticeable change in my mindset about life, legacy, and lore.
When I started this 'blog over a decade ago, I had an exuberant desire to share, contribute, talk, discuss, and vent. I don't think my enthusiasm has waned but rather my definition of what it means to share. Sharing no longer means uploading photos, videos, and stories online. Sharing means giving someone a wonderful memory. Whether it is a small gift or a fun-filled weekend driving around Florida, I am just happy to be there with my loved ones.
I think the only reason I still continue to write my 'blog is because I've never forced myself to write. I write when I want to and because I want to. It is not an obligation to the world but an outlet for me. Today, after over a month, I felt the urge to spew some drivel and here you are, sportingly bearing every word of it. Here's hoping the fodder for my next update will be genuine excitement and not ennui.