Leela turned one this Sunday and to celebrate, we invited all of our friends and family to a virtual party on Zoom. We would have loved to throw a party in-person but since Juliet is immunocompromised, we cannot risk her getting infected with Coronavirus. On the flip side, many more people from across the country and world were able to join.
Juliet and I had been planning the party for many months now and it took a surprising amount of work to prepare everything. We knew we didn't want to have just a standard 'everyone fawn over our baby while yelling across each other' event so we spent a lot of time coming up with fun ideas to engage the guests. We came up with the following itinerary for a packed one-hour session:
Intro slideshow with two dozen latest photos of Leela with/without us, on loop while everyone slowly joined.
Quick welcome by me with technical suggestions like please mute when not talking and turn phone to wide-screen.
Pre-recorded Official Party Welcome by a special guest: NOT Tom Cruise.
Leela's first year of adventures slideshow of about 50 pics/collages with both Juliet and I sharing a line or two about each slide.
Leela's Playroom: A Scavenger/Treasure Hunt game for all guests with hints provided by special guests in the form of nursery rhymes. I managed to get personalized videos wishing Happy Birthday to Leela from Lisa Loeb, LeVar Burton, Gilbert Gottfried, Carole Baskin, and Danny Trejo! And to keep things cute, I had Naveen sing Old MacDonald Had a Farm.
Slideshow of 12 Months of Leela in pretty costumes
Pre-recorded Happy Birthday song with karaoke-style subtitles sung by Lisa Loeb and Gilbert Gottfried.
Finale: Cake Smash by Leela.
Since I was going to handle the slides and videos, I asked my friend Arthur to manage the guests and host the technical aspect of the party. He admitted people into the waiting room, muted guests after they were done speaking, pinned my stream when I was presenting, kept the score for the game, and recorded the whole session so we can remember it forever! This was no small task and so a big thank you to Art!
Juliet's cousin Alex stayed with us for 3 weeks last month and came back again for Leela's birthday. Without her helping around the house, I would not have time to do any photo or video editing, nor would Juliet have been able to put up the wonderful decorations as pictured below. So thank you Alex!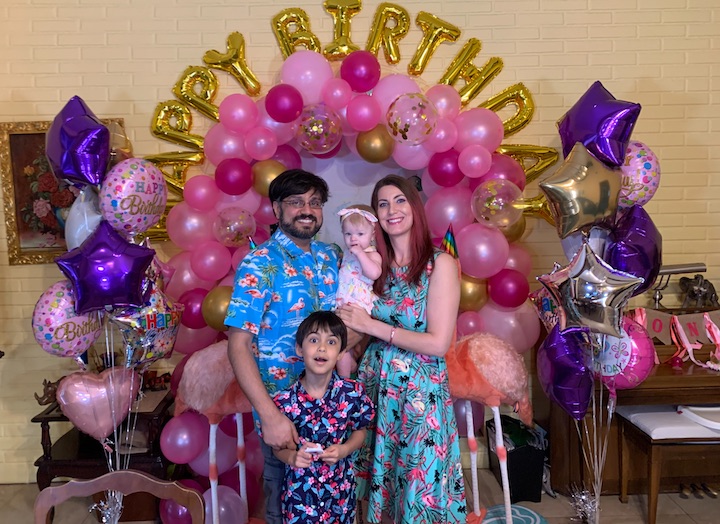 I used OBS Studio to present the stream and that included playing videos, flipping through images, showing our webcam feed live, overlaid with various transparent images like the frames below. The images look pixelated because they are screenshots of the live session, not photos.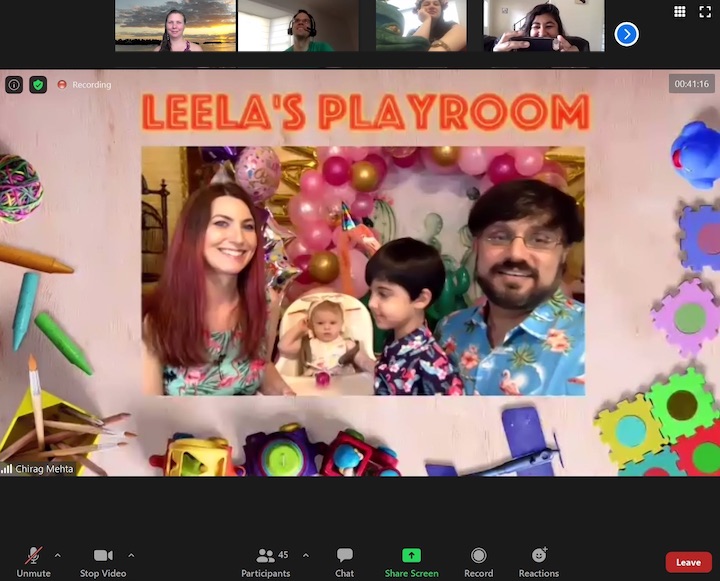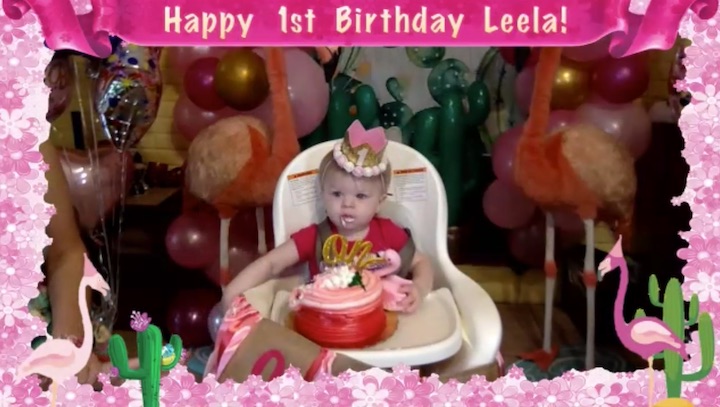 Overall, even though this was just an hour-long online party, it was honestly no less exhausting and exhilarating than any of our other parties like Naveen's birthdays or Juliet's Baby Shower. While this had a unique set of challenges, fortunately for us, there were no technical issues. Best of all, both Leela and Naveen loved it!
Happy Birthday to Leela, my lovely little baby girl :)